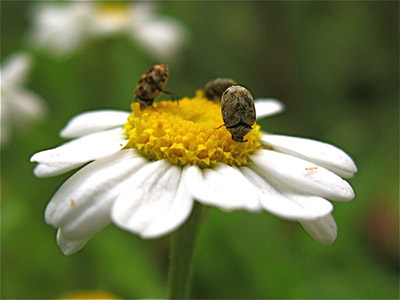 "I recently captured this shot of these tiny beetles on a 'feverfew daisy' in my garden," said Ruth Cooper. "These flowers which are about 1/2" in diameter, are honey-scented, and are very attractive to insects. These little fellows, (about the size of a pin-head,) apparently weren't about to miss the last drop of nectar!"
If you have a candid you'd like to share, take a look at our Submissions page, then send us your Grab Shot. If we publish it, you'll receive an ultra cool custom carabineer keychain.
And you can view more images from our virtual camera club in the Member Photo Gallery.

Events! See the TDS Event Calendar for photography workshops, speaking engagements, and trade show appearances.
---
Technorati Tags: candid, digital photography, grab shot, The Digital Story