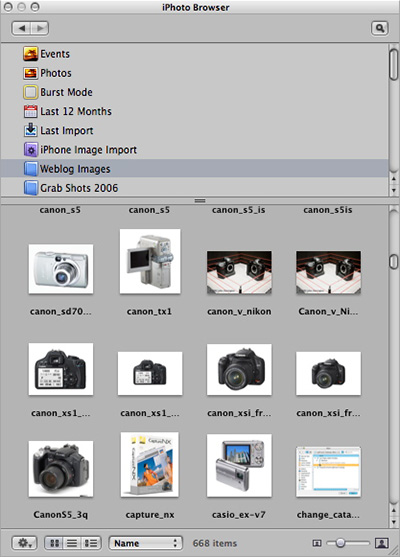 iPhoto users looking for a more robust photo management system don't have to search any farther than the just-released Aperture 2. There are a number of reasons why this is a logical transition.
I think the best reason, however, is how easy Apple has made the transition from one photo management system to the other. In this podcast, I discuss some of Aperture's advantages over iPhoto, then cover a few strategies for moving up to Aperture, including:
Transfer Single Images: In Aperture, go to File > Browse iPhoto Library. You can then drag the images you want into your Aperture library. (Aperture's iPhoto Library Browser is shown above.)
Creating Referenced Files to Your iPhoto Masters: If you hold down Command+Option while dragging from the iPhoto Browser to Aperture, you'll reference the imported images... no duplication. So you get to use your iPhoto images in Aperture without making extra copies of them.
Moving iPhoto Albums into Aperture: You can bring in entire iPhoto albums by using Aperture's Import command, choose Images from the pop up menu, and navigate to your iPhoto Library container. When you click on it, Aperture will show you all of your albums. Choose an album, and Aperture will import it and place it as an album within your selected project.
Monthly Photo Assignment
Empty is this month's photo assignment. Empty spaces, empty containers, empty lives... lots of possibilities for this one. You can read more about how to submit on our Submissions page. Deadline for entry is Feb. 29.
Listen to the Podcast
Now that I've piqued your curiosity, it's time to listen to today's audio show titled, "iPhoto to Aperture 2." You can download the podcast here (28 minutes). You can also subscribe to the podcast in iTunes
The Digital Story Podcasts are available for direct download from Apple iPhones. I've created a special mobile download page here. Just load the page in Safari, browse the podcast line-up, and click on the one you want to listen to.
Want to share photos and talk with other members in our virtual camera club? Check out our new Flickr Public Group. It's a blast!
Check out what you can do with an $150 underwater housing and a compact point and shoot by taking a look at my underwater gallery from the Caribbean.
Have you looked at the Park by the Numbers Camera Phone Project? If you have a camera phone, you've got to check this out.

Events! See the TDS Event Calendar for photography workshops, speaking engagements, and trade show appearances.
---
Technorati Tags: digital photography, podcast, technique, Technology, The Digital Story, tips
---
Sponsor Notes...
Lowepro Bags for Photographers On the Go -- Lowepro gear for every type of camera rig, every type of photographer.
Add Magic to Your Slideshows -- FotoMagico presentations are so amazing that your audience will be asking how you did it.