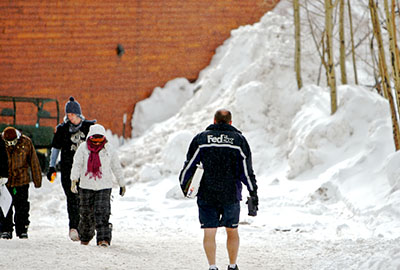 "Below is a grab shot I took recently at Lee Canyon Ski Resort in the mountains just outside of Las Vegas," said Kevin Miller. "I am sure most of this Fed Ex employee's deliveries were done in the valley below under the relative warmth of the sun, hence the shorts. The uniform definitely seems out of place in the snow."
And yet he pushes on...
Kevin used a Canon 30D, with a 200mm lens set to f/2.8 in Aperture Priority mode. ISO was 100, and shutter speed was 1/2000 of a second.
If you have a candid you'd like to share, take a look at our Submissions page, then send us your Grab Shot. We'll try to get it published for you on The Digital Story.
And you can view more images from our virtual camera club in the Member Photo Gallery.

Events! See the TDS Event Calendar for photography workshops, speaking engagements, and trade show appearances.
---
Technorati Tags: candid, grab shot, The Digital Story