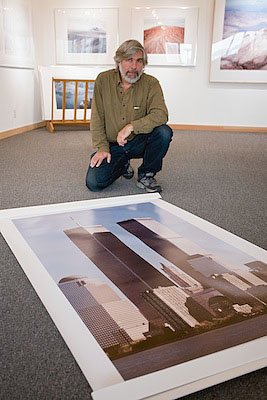 Stephen Johnson is a digital photography pioneer. His mastery of traditional technique combined with his forward thinking led him to the new world of digital imaging.
In this interview recorded in Orlando, FL at Photoshop World, Stephen talks about his seminal work, On Digital Photography, the evolution of digital cameras including how megapixels fit into that picture, and provides some great advice on how to best display your work. It's a terrific chat that I think you will enjoy. You can find out more about Stephen's ongoing projects and workshops by visiting www.sjphoto.com.
Photo of Stephen Johnson in his studio by Derrick Story.
Monthly Photo Assignment
Angular is this month's photo assignment. Just about everything intersects at some sort of angle... lots of possibilities for this one. You can read more about how to submit on our Submissions page. Deadline for entry is April 30.
Listen to the Podcast
Now that I've piqued your curiosity, it's time to listen to today's audio show titled, "Stephen Johnson on Photography." You can download the podcast here (28 minutes). You can also subscribe to the podcast in iTunes
The Digital Story Podcasts are available for direct download from Apple iPhones. I've created a special mobile download page here. Just load the page in Safari, browse the podcast line-up, and click on the one you want to listen to.
Want to share photos and talk with other members in our virtual camera club? Check out our new Flickr Public Group. It's a blast!

Events! See the TDS Event Calendar for photography workshops, speaking engagements, and trade show appearances.
---
Technorati Tags: digital photography, podcast, technique, Technology, The Digital Story, tips
---
Sponsor Notes...
Lowepro Bags for Photographers On the Go -- Lowepro gear for every type of camera rig, every type of photographer.
Add Magic to Your Slideshows -- FotoMagico presentations are so amazing that your audience will be asking how you did it.