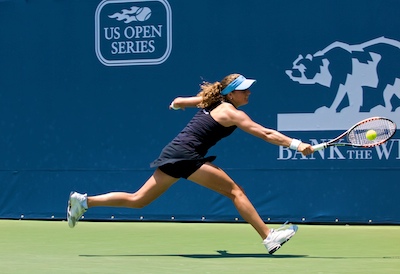 The weather was perfect for hardcourt tennis at Stanford University. One of my favorite matches of the day pitted Shahar Peer from Israel against the defending champion Anna Chakvetadze from Russia. I was there to test the new Olympus E-520 digital SLR. This 10 MP body includes excellent sensor-based image stabilization, with modes for both horizontal and vertical panning. It also supports Autofocus Live View on its 2.7" HyperCrystal LCD, Face Detection, intelligent spot metering modes, Shadow Adjustment Technology, and more. The kit with a 12-40mm lens sells for less than $700.
So there I was in the photographer's area with press pass dangling from my neck going up against the giant Nikons and Canons. I asked the Olympus folks if I could borrow a couple of their pro lenses, and was able to attach a Zuiko ED 150mm f-2.0 (which is the 35mm equivalent to 300mm) both with and without a 2X doubler. I also tested the Zuiko ED 50-200mm f-2.8-3.5. Both lenses include tripod collars, so I felt a little more comfortable on the court with a monopod and some hefty glass. I did however, shoot with the kit lens and the 70-300mm f-4.0-5.6, and both yielded excellent results. I just couldn't stroll into the pro shooters area with only stock glass.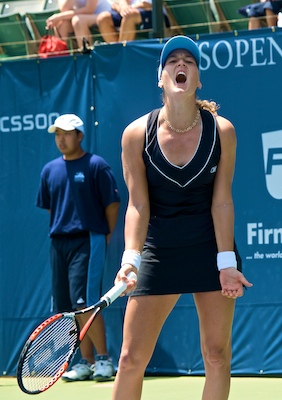 As for the E-520 itself, I was impressed. The Olympus reps suggested that I shoot in Jpeg mode, but the contrasty lighting really demanded Raw. So that's where I set the E-520, and it provided ample frame bursts in Raw (8 shots) to keep up with the action. During the entire day, I only filled up the buffer a couple times. At 3.5 fps, I was able to capture some good sequences without too much spacing between the shots. I set the ISO to 400 for maximum shutter speed, even in the bright sun, and thought the image noise was generally well-controlled and unobtrusive. The shutter sound itself is excellent.
Olympus is a sponsor of the US Open Series. And what a great event it is. The Tournament at Stanford (Bank of the West Classic) featured many stars including Serena Williams. I enjoyed both the event and the Olympus E-520. I'll continue to shoot with the camera and post updates along the way.
Photos of Shahar Peer by Derrick Story. Olympus E-520 with Zuiko ED 50-200mm f-2.8-3.5, ISO 400 in Raw capture mode.
Technorati Tags: Derrick Story, digital photography, Technology, The Digital Story, Olympus E-520