I've been recording audio as well as pictures while on assignment. Why? Because have both the sounds and the images allow me to create full-bodied presentations when I return home.
This doesn't mean that you have to carry a big sound rig in your camera bag. In fact, you might already have an audio recording device in there and don't know it. I cover all of this in this week's podcast.
Monthly Photo Assignment
Competition is this month's photo assignment. With the Olympics dominating the sports scene this month, competition seems like a good topic. Your event can be more personal, and doesn't even have to be sports related. You can read more about how to submit on our Submissions page. Deadline for entry is August 31.
Listen to the Podcast
Now that I've piqued your curiosity, it's time to listen to today's audio show titled, "Capture Sound Too." You can download the podcast here (29 minutes). You can also subscribe to the podcast in iTunes
The Digital Story podcasts are available for direct download from Apple iPhones. I've created a special mobile download page here. Just load the page in Safari, browse the podcast line-up, and click on the one you want to listen to.
Want to share photos and talk with other members in our virtual camera club? Check out our new Flickr Public Group. It's a blast!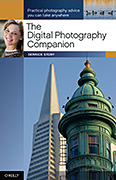 Now Available! The Digital Photography Companion. The official guide for The Digital Story Virtual Camera Club.
25 handy and informative tables for quick reference.
Metadata listings for every photo in the book
Dedicated chapter on making printing easy.
Photo management software guide.
Many, many inside tips gleaned from years of experience.
Comprehensive (214 pages), yet fits easily in camera bag.
---
Technorati Tags: digital photography, podcast, technique, Technology, The Digital Story, tips
---
Sponsor Notes...
Add Magic to Your Slideshows -- FotoMagico presentations are so amazing that your audience will be asking how you did it.
Red River Paper -- Try the $7.99 Sample Kit.