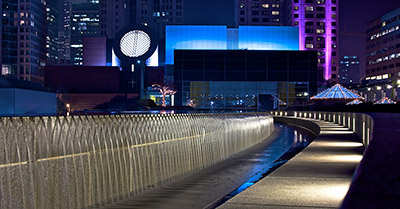 One of my favorite weeks of the year is in early January when I teach at Macworld in San Francisco. I lead a two-day workshop in Aperture, a Mac Lab for Photoshop CS4, numerous sessions, and joined Rick Smolan on stage for State of the Art of Digital Photography.
What a great place to have a new DSLR to test. At night, when walking back from my last event, I would mount my Sigma 50mm f/1.4 EX DG HSM prime lens and test the limits of the Canon 5D Mark II.
One night I passed by the Yerba Buena water feature behind Moscone North Hall. This is a great place to relax and enjoy the San Francisco skyline after a long day. I've always liked the water feature here, in part for its beauty, and in part for its soothing sound. On Wednesday night, I decided to photograph it.
I set the camera on the ledge in self-timer mode. I kept the ISO low at 200, and used Aperture Priority mode at f/16 to get as much depth of field as possible. The resulting exposure was 10 seconds. I then adjusted the color and tone a bit in Aperture on a MacBook Pro.
After my first week of shooting, I'm very much enjoying the Canon 5D Mark II, and I will miss San Francisco until my next extended stay here.
Photo of Yerba Buena water feature by Derrick Story, Jan. 2009
---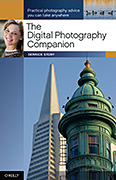 Now Available! The Digital Photography Companion. The official guide for The Digital Story Virtual Camera Club.
25 handy and informative tables for quick reference.
Metadata listings for every photo in the book
Dedicated chapter on making printing easy.
Photo management software guide.
Many, many inside tips gleaned from years of experience.
Comprehensive (214 pages), yet fits easily in camera bag.
---
Technorati Tags: Derrick Story, digital photography, technique, Technology, The Digital Story, Canon 5D Mark II