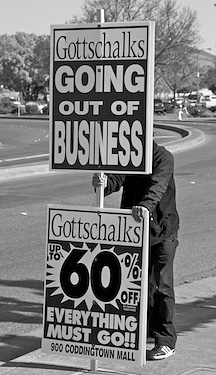 I was up on the second floor talking with a senior clerk in Housewares who had just found out she was going to lose her job. This was the first week of liquidation at the Gottschalks department store in Santa Rosa, Ca. She had worked for the company for more than 5 years.
"How are you doing?" I asked.
"Mostly, I'm just mad." she replied. "I just hate seeing this happen here. And I don't want to lose my job."
She said this as she kindly helped me with a small purchase during our conversation.
By way of background, I learned that: "Gottschalks, founded in Fresno in 1904, operated 58 department stores and three specialty stores, including locations in Santa Cruz and Watsonville. It had about 5,200 employees in California, Oregon, Washington, Alaska, Idaho and Nevada," wrote Tim Sheehan of The Fresno Bee. "Gottschalks filed for Chapter 11 bankruptcy in mid-January in hopes of either reorganizing its debt or finding a buyer." But unfortunately neither plan worked and they had to turn over their business to a liquidator.
The sequence for closing a large retail store this way is predictable, almost mathematical. First, the liquidator moves in and takes over the operation. Initially, they may actually raise the prices. For example, while I was in Gottschalks, I overheard one customer commenting, "I was here last week and this set of dishes was on sale for 40 percent off. Now they're only 20 percent discounted." This also happened with a Circuit City store closing (as reported by Ira Glass in This American Life). The liquidators raised prices at the beginning of the closing to get as much money as possible, then slowly deepened the discounts as inventory dwindled.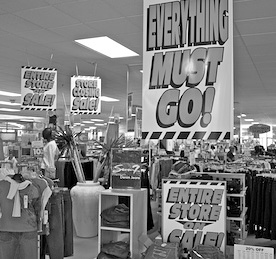 Even though the signs outside tempt shoppers with savings up to 60 percent, they most likely won't see that level of discounting for weeks. Meanwhile, inside on the second floor in Housewares, I feel the eerie sensation of death. I know that soon everything I see here will be gone. Out of the corner of my eye I notice another clerk who had given me a great deal on a major purchase months back. I had this fleeting thought that maybe I had taken advantage of him, and now he was certain to lose his job.
"These are good people," blurted the woman who was helping me at the counter. "I've really enjoyed working for this company." She then carefully finished wrapping my purchase and wished me a good day. "Best of luck," I said, and took the escalator back down to the first floor, knowing this will be my last visit to Gottschalks of Santa Rosa.
Photos by Derrick Story with a Canon 5D Mark ll and a Canon 24-105mm f/4 lens. Images processed and converted to B&W in Aperture.
---
-
---
Technorati Tags: Derrick Story, digital photography, The Digital Story, Signs of the Times