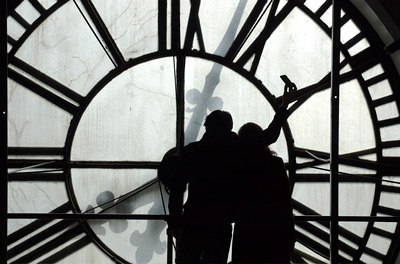 "The weekend of April 18 and 19, the City of Denver 'opened' its doors, allowing public access to selected buildings," writes Paul Leasure. "I had the opportunity to go up in the Daniels & Fisher (D&F) Tower, a distinctive Denver, Colorado landmark. Built as part of the Daniels & Fisher department store in 1910, it was the tallest structure west of the Mississippi at the time, at a height of 325 feet (99 m). Modeled after St. Mark's Bell Tower at the Piazza San Marco in Venice, Italy, the 20-floor clock tower has clock faces on all four sides. This rare shot was taken from the inside of the clock face, with my Nikon D70s at 1/250 at f 8.0."
If you have a candid you'd like to share, take a look at our Submissions page, then send us your Grab Shot. We'll try to get it published for you on The Digital Story.
And you can view more images from our virtual camera club in the Member Photo Gallery.
---
-
---
Technorati Tags: candid, digital photography, grab shot, The Digital Story