The new Creative Output section of The Digital Story was created to inspire photographers to find new ways to share their images with others. I sometimes refer to this process as, "going beyond the print."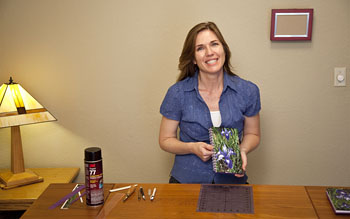 I brought in a true expert in this field, Stephanie Scheetz, to oversee this endeavor. Stephanie has been a craft designer and instructor for major craft companies for more than 15 years. She has taught classes throughout the U.S. and Asia, and has appeared on TV craft shows and home shopping programs in the U.S. and U.K. Her work can be found in craft industry and consumer magazines, in addition to, catalogs, advertisements, and books. In addition to that, Stephanie is an engaging personality.
So she and I sat down in front of the microphone this week to talk about her views on Creative Output and to give you a preview of the types of projects she's working on. You'll come away from the show with great ideas, and hopefully get to know Stephanie a little better.
Monthly Photo Assignment
Splash is the June 2009 Photo Assignment. You can capture anything from a child jumping in a pool to an olive dropping into a martini. You can read more about how to submit on our Submissions page. Deadline for entry is June 30, 2009.
Listen to the Podcast
You can also download the podcast here (26 minutes). Or better yet, subscribe to the podcast in iTunes.
Other Creative Output Projects with Stephanie
Make a Custom Photo Gift Bag
(Video Tutorial)
Buckle-Up Frame
A Time to Remember - Make Your Own Photo Clock
Packing Tape Transparencies
Want to share photos and talk with other members in our virtual camera club? Check out our new Flickr Public Group. It's a blast!
---
-
---
Podcast Sponsors
SiteGrinder lets you take ownership of your websites. Effortlessly output pages right from Photoshop.
Red River Paper -- Try the $7.99 Sample Kit.
Add Magic to Your Slideshows -- FotoMagico presentations are so amazing that your audience will be asking how you did it.
---
Technorati Tags: digital photography, podcast, technique, Technology, The Digital Story, tips