What goes in the camera bag this time? As I prepare for a return trip to Beijing, plus side visits to Japan and S. Korea, I want to travel light, yet have everything I need. I discuss the possibilities in this week's podcast.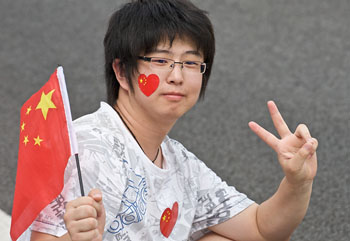 Here's a hint for those of you who read these show notes. I'm leaning toward taking the Canon Digital Rebel T1i, battery grip with AAs, 70-200mm f/4 L, 24-105mm f/4 L IS, 18-55mm IS, and 50mm f/1.8. No external flash, but monopod with tripod ring for the 70-200mm. I'm also going to pack the Olympus E-P1 and the Olympus Stylus Tough 8000.
Interesting choices? I'll explain myself during the show.
Listen to the Podcast
You can also download the podcast here (26 minutes). Or better yet, subscribe to the podcast in iTunes.
Monthly Photo Assignment
Soft Background is the July 2009 Photo Assignment. You can create the effect when you shoot with a telephoto or wide aperture lens, or take care of it in post production with Photoshop. You can read more about how to submit on our Member Participation page. Deadline for entry is July 31, 2009.
More Ways to Participate
Want to share photos and talk with other members in our virtual camera club? Check out our Flickr Public Group. It's a blast!
Photo by Derrick Story at the Beijing Olympics in 2008.
---
-
---
Podcast Sponsors
SiteGrinder lets you take ownership of your websites. Effortlessly output pages right from Photoshop.
Red River Paper -- Try the $7.99 Sample Kit.
Add Magic to Your Slideshows -- FotoMagico presentations are so amazing that your audience will be asking how you did it.
---
Technorati Tags: digital photography, podcast, technique, Technology, The Digital Story, tips