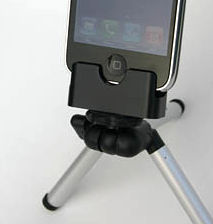 Now you can steady those videos and group shots captured with your iPhone thanks to the Blur Tripod for the iPhone. For only $14.99 US (plus $5 shipping and handling), you get the adapter that enables you to mount the iPhone on any tripod. They also provide a mini tripod that fits easily in your pocket.
The Blur tripod itself is 5" long (6.5" extended) and 3⁄4" in diameter. The tripod adapter is 2" wide, 1.5" tall, and 0.8" thick weighing in at about 2 ounces (60 grams). The adapter works on any standard tripod. The pads on the inner surface of the Blur adapter cushion the iPhone, yet provide a snug and secure fit. Blur states that the pads will not scratch the screen.
You can order the kit directly from the Blur site.
iPhone App Reviews and Camera Phone Tips
Yahoo! Releases Official Flickr App for iPhone
A Look Inside Shutterfly for iPhone
Flickr Tip: Manage Permissions During Mobile Workflow
Cropulater Brings Picture Cropping to the iPhone
FotoTimer Provides Self-Timer for the iPhone
HP iPrint App Makes Printing Easy from iPhone or iPod touch
True Photo App for iPhone: CameraBag
---
-
---