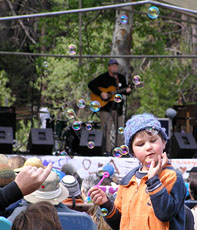 "I took this at Spring 2008 Strawberry Music Festival," writes Moira Haines. "We were enjoying a short reprieve from the rainy weekend. It seems that bubbles are more captivating than religion to some, and I enjoyed watching the innocent fascination on the boy's face."
Moira used her Olympus C 770UZ digital camera to capture this captivating scene.
Photo by Moira Haines. Click on image to zoom to larger size.
If you have a candid you'd like to share, take a look at our Submissions page, then send us your Grab Shot. We'll try to get it published for you on The Digital Story.
And you can view more images from our virtual camera club in the Member Photo Gallery.
---
-
---
Technorati Tags: candid, digital photography, grab shot, The Digital Story