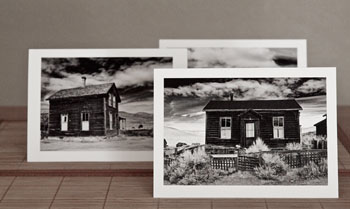 Fine art notecards are such a satisfying product to create. They are beautiful, functional, and affordable. When you hand someone a notecard that you made, they know you're an artist. More than once recipients have told me that they can't wait to get them in a frame.
Until recently, I was using Red River 60lb Premium Matte C2S for my matte surface cards. It's a beautiful stock that really shows off my images. But for this last print run, I tried the 60 lb. Paper Canvas because of the textured surface. And I love it.
First of all, I didn't have to change any of the print settings that I was using for my other matte notecards in the Epson R2400. I stuck with the Enhanced Matte Paper ICC profile, and the color and tone reproduced beautifully. Once out of the printer, the cards dried quickly and were easy to fold along the score. Personally, I like to use a roller to get a nice, crisp crease. The end product is a 5" x 7" fine art card that is textured on the outside, but is smooth on the inside for easy writing.
I also highly recommend the 5.25 x 7.25 Premium White Envelopes (Item#7163) for $12.59 for a box of 100. They're such a nice finishing touch.
If you want to know more about how I actually produce these notecards, be sure to read my article, Professional Photo Art Notecards Using Aperture and Red River Paper. I think once you produce a few of these beauties, you'll be just as thrilled with them as I have been.
To get free shipping, be sure to start at the Digital Story page on the Red River site. Red River Paper is a sponsor of The Digital Story, and we're thrilled to be working with them.
---
-
---