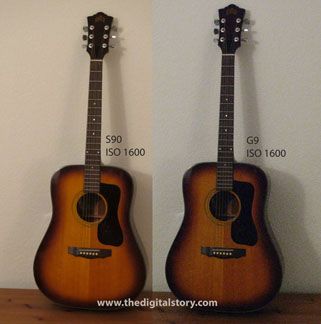 In the article, The Conversation Has Shifted from Megapixels to Image Noise, I observed that we've moved on, at least temporarily, from the megapixel wars. Case in point with my own cameras. The Canon G9 that I reviewed on Oct. 2, 2007 squeezed 12.1 megapixels on to a 1/1.7 inch CCD sensor and processed the information with a DIGIC 3 processor. Now, two years later, both the Canon G11 and S90 have upgraded to DIGIC 4 processors, but only 10 megapixels on the same sensor. Why step backwards? Well, in part because we asked Canon to. Our theory was that if you cram fewer photosites on to the same sized CCD, you'd generate less heat, and therefore have less image noise at higher ISO settings.
---
Improvement with the S90? You betcha! Side-by-side comparison of ISO 1600 shots with the Canon S90 and two year old G9. Even in these smaller shots (click on image to enlarge) you can see a big difference. Go to the full-sized comparisons to see more detail.
---
Were we right? I decided to run a comparison between the Canon G9 (a camera near and dear to my heart) against the new PowerShot S90. I mounted each camera on a tripod, set the aperture to 5.6, and took shots of the same subject in the same lighting at ISOs 80, 400, 800, and 1600. I then published full sized comparisons that you can view at 100 percent and judge for yourself. No image editing of any kind for these shots. They were high quality Jpegs that I spliced together in Photoshop, and then left it at that.
My conclusion? No contest. The S90 is clearly the better camera at ISO 400 and above. In this case, Canon found a way to make our theory correct. Take a look at the posted samples and decide for yourself.
As for me... well, I'm impressed with the image improvements in the Canon PowerShot S90. There are plenty of other features I like too, and I'll touch on those in a subsequent post.
---
-
---