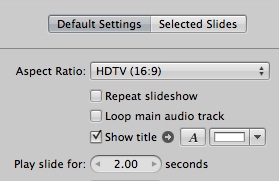 Building movies in Aperture 3 that combine still images and video snippets is a great way to improve your presentations. There are two simple ways to add a title slide to the video.
The first is the default method where you simply check the box next to "Show title" in the Default tab. Aperture will use the name you've given to the slideshow project and overlay it on the first image. If you want to adjust the font or color, click on the buttons to the right of the check box.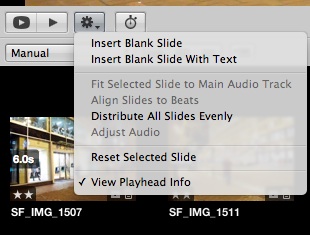 A second method, and the one I prefer, is to go to the gear menu and choose, "Insert Blank Slide With Text." Again you have font and color options, but now you're making your adjustments in the Selected Slides tab.
You can create as many title slides as you want, and drag them to any point in the presentation. They're a handy tool for adding that professional touch to your work.
More Aperture Tips and Techniques
My next Aperture Workshop is May 23, 2011 in Santa Rosa, CA. write me if you're interested in attending.
To learn more about Aperture 3, check out my Aperture 3 Essential Training on Lynda.com. Also, take a look at our Aperture 3 Learning Center. Tons of free content about how to get the most out of Aperture.
---