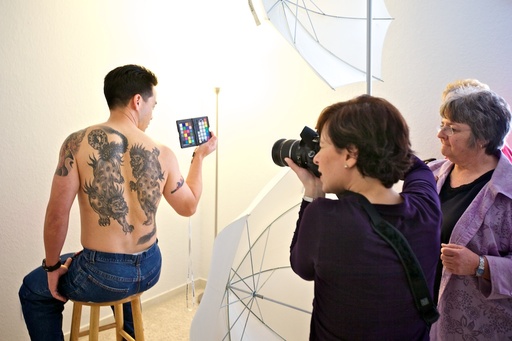 "I can't believe I'm actually taking these pictures!" exclaimed June H. when she looked at the LCD on the back of her camera. She, along with the rest of the workshop crew, was working on assignment all weekend at the TDS studio. We had three models, seven flashes, more modifiers than you could count, and lots of fun.
After each photo session, the group had to cull and image edit their favorite shots, getting them ready for the portfolio review at the end of the day.
"Not that I'd want to to live my life as a pro photographer, but I really liked the experience of working under pressure," said Doug K. "You learn a lot when you're on the edge."
It wasn't all work however. At the Friday night social, we had the Lowepro Bag Grab and got to know one another over snacks and refreshments. The "Made to Order" lunch was brought in every day, giving shooters a chance to swap stories during their well-deserved break. Some even got together for a Saturday night dinner before reuniting at the studio again on Sunday morning.
If you're interested in being on the reserve list for the TDS Workshop Series, just send me a note with the subject line: "TDS Workshop Reserve List." I'll get right back to you.
---