"I started out Sunday evening and took a drive until I found some water," writes Keith Burrows. At just the right moment, I stopped and shot this scene. It's a typical south Florida sunset, which is why I live here!"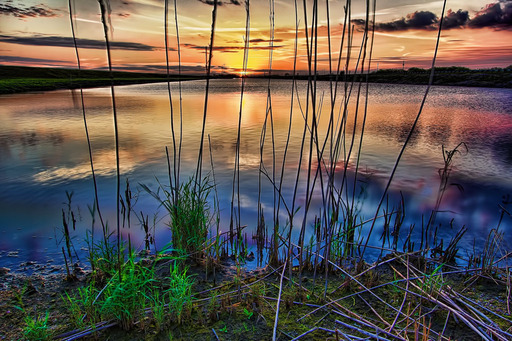 "Reflections of a Beautiful Evening" by Keith Burrows. Click on image for larger version.
Keith recorded this beautiful image with his Canon 60D and a 10-22mm lens set wide open. It's a 3-shot HDR, initially processed in Aperture 3 then finished with HDR PRO by Nik.
This is our 212th Grab Shot! Wow. If you want to review the collection that began back in 2006, go to our Grab Shots page.
If you have a candid you'd like to share, take a look at our Submissions page, then send us your Grab Shot. We'll try to get it published for you on The Digital Story.
And you can view more images from our virtual camera club in the Member Photo Gallery.
---
The Digital Story Podcast App is the best way to stream or download weekly TDS podcast episodes. No more syncing your iPhone, iPod Touch, iPad, or even your Android phone just to get a podcast. And the best part is, The Digital Story Podcast App is your way to help support this show. Download it today!
---