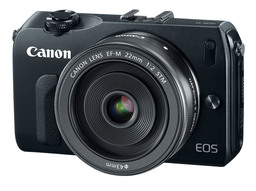 At last the other shoe has dropped and now Canon has their entry into the mirrorless camera derby. And it's a good one.
The Canon EOS M is a sophisticated CSC aimed at transition photographers and movie makers. Where other manufacturers included HD movie capture on their still cameras, Canon emphasized it.
With its 18.0-megapixel APS-C CMOS sensor and full HD movie mode with movie servo AF for continuous focus tracking of moving subjects, the EOS M is targeted directly at those for whom video is a priority. It even has an external mic jack.
In October, the body with kit EF-M 22mm f/2 STM lens will be available for $799. Canon will also have a EF-M 18-55mm f/3.5-5.6 IS STM lens for $299 and an adapter for EF-S and EF lenses. For photographers already in the Canon DSLR camp, the adapter is a no-brainer.
Will I place my order for the new EOS M? Probably not. I'm going to wait and see what's released up the road. For the time being, the Olympus OM-D E-M5 is a better fit for me. I shoot stills first and video second. And the OM-D is a fantastic still photography camera.
But don't underestimate what Canon has done here. They have studied the market and targeted a solid camera right at the generation ready to move from point and shoot to something more sophisticated. It's going to be fun to watch how this plays out.
---
You can find more photo tips and "photography how tos" on my Pinterest page.
---