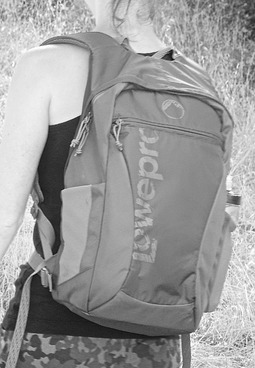 Leah Lavoneh works on both sides of the camera. As a junior college student, she studies Anthropology and enjoys taking photographs. To help cover expenses, she works part time as a model. Leah recently loaded up the Lowepro Photo Hatchback 16L AW and took it on a road trip to Oregon and Washington State. She was looking forward to exploring the beautiful scenery with a Canon DSLR and her outdoor gear.
"Hiking with the Photo Hatchback was an unexpected pleasure," Leah remarked. "Its compact size is deceiving; it has compartments for food, water bottles, sunscreen, extra clothing, flashlights, and other random stuff needed on the trail -- and all of this while still providing great protection for my camera."

Mount Rainier National Park in Washington by Leah Lavoneh.
Part of the pleasant surprise with this bag unique "backside" compartment that keeps expensive gear protected, yet has fast access to make picture-taking easy. All Leah had to do was slide off the shoulder straps and swing the bag around via its waist belt. Then she could access her camera without having to set the bag on the ground.
Backside camera access.
"The ability to use my camera while still wearing the backpack around my waist really made life on the trail easy," she said. "Not only did this feature help keep the backpack clean, it was much easier to put the camera away once I had taken the photo. In fact, it was so convenient, I found myself taking more pictures than normal."
"I loved not having to set my bag down in order to get to my camera," Leah said.
Having this kind of capacity without the heft kept Leah light on her feet while exploring the Northwest.
"The Photo Hatchback wasn't bulky at all. So, for example, when I was squeezing between boulders in Ape Cave (a pitch-black lava tube), I didn't have the annoyance that usually accompanies bigger backpacks."
Other helpful features of the Photo Hatchback include an All Weather cover in case the weather turns nasty, a dedicated pocket for an iPad, and a fully adjustable harness system for just the right fit.
The only downside to convenient picture taking? "I have so many images to sort through now," Leah exclaimed.
Editor's note: The the Lowepro Photo Hatchback 16L AW is available for $89.95 from B&H Photo. Thanks to Leah Lavoneh for sharing her experience and a photo from her trip. Bag provided by Lowepro.
---
You can find more photo tips and "photography how tos" on my Pinterest page.
---