This week stories: A Bargain Canon Super Zoom, The Return of Drobo Part 2, and the Olympus TG-1 camera giveaway.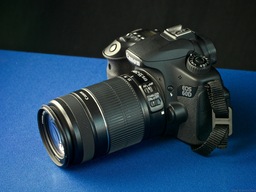 Story Number One: - The Canon EF-S 55-250mm f/4.0-5.6 IS II lens,
Standard street price for the zoom is $299. But I've see it going regularly for $249, and I even scored one brand-new in the box with warranty for $195. This is not a fancy lens. But it certainly takes good pictures. What I like about it is that it has four-stop image stabilization, and that it is light and relatively compact for a zoom with an effective range from 88mm to 400mm. More on this lens in the first segment of the show.
Story Number Two: - The Return of Drobo - Part 2. Let's go under the hood and look at some of the specifications for the set up that I'm testing.
I have all five bays of the 5D filled with drives. That includes three 1-TB drives and two 3-TB drives that occupy the five slots. In the bottom slot (on the bottom of the unit), I have one mSATA SSD Accelerator Drive installed. This is a solid-state chip with 64 GBs of memory that improves performance. With a total of 9 TB of disk space installed, I have access to 5.4 TB of space. 2.77 TB of the 9 TBs is used for protection. More on how this all works out in the second segment of the show.
Story Number Three: -The Olympus Tough TG-1 iHS Digital Camera Giveaway. To celebrate the holiday season, I want to give away an Olympus Tough TG-1 iHS Digital Camera. It's one of my favorite compact cameras, and I think someone else should enjoy one too. I go over the details in this segment of the show.
---
The Gift Guide for Photographers features 12 tempting goodies for the photographer in your life. Each item includes a background article about it and a direct link for the best price.
---
Listen to the Podcast
You can also download the podcast here (34 minutes). Or better yet, subscribe to the podcast in iTunes. You can support this podcast by purchasing the TDS iPhone App for only $2.99 from the Apple App Store.
Monthly Photo Assignment
Long Exposure is the Dec. 2012 Photo Assignment. You can read more about how to submit on our Member Participation page. Deadline for entry is Dec. 31, 2012.
More Ways to Participate
Want to share photos and talk with other members in our virtual camera club? Check out our Flickr Public Group. And from those images, I choose the TDS Member Photo of the Day.
Podcast Sponsors
Red River Paper -- Keep up with the world of inkjet printing, and win free paper, by liking Red River Paper on Facebook.
Make Your Photos Sizzle with Color! -- SizzlPix is like High Definition TV for your photography. Special this month, order one SizzlPix and get the second one for 50 percent. Buy just one SizzlPix and get a 25 percent discount. Put "TDS" in the comments field of your order.
Need a New Photo Bag? Check out the Lowepro Specialty Store on The Digital Story and use discount code LP20 to saven 20% at check out.
---
Technorati Tags:
digital photography
,
podcast
,
technique
,
Technology
,
The Digital Story
,
tips