I've wanted to play with high speed photography for years, but didn't want to tackle an elaborate setup. When Triggertrap released a Flash Adapter that works with their iOS and Android apps, I really didn't have an excuse any more.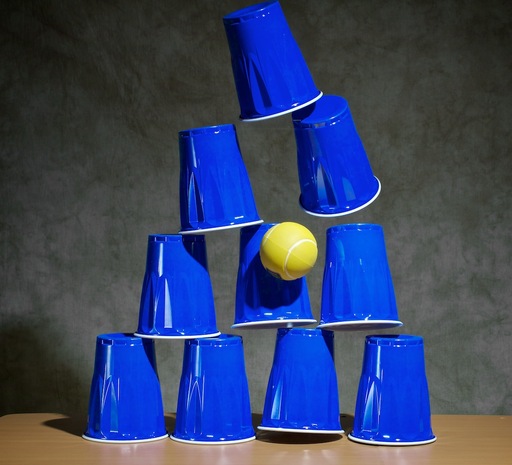 "Yellow Ball and Blue Cups" captured using a Canon 70D, Sunpak 444D flash, and the Triggertrap Flash Adapter. Photo by Derrick Story
The setup couldn't be easier. I mounted a Sunpak flash to the Triggertrap Flash Adapter and attached the combo to a light stand. I then connected one end of the dongle to the adapter and the other to my iPhone and launched the Triggertrap app.
(There are two cords you use for this. One is the cord that comes with the Flash Adapter. The second is the Triggertrap Dongle that's sold separately. The dongle protects your iPhone from the flash.)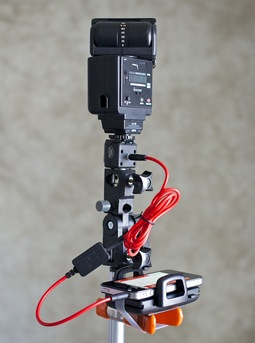 Next, I put the Canon 70D on a tripod and manually focused the 40mm lens on the subject. In Manual exposure mode, I set the shutter to 1 second and aperture at f/11. Since the room was darkened, the flash would serve as the main light source. Even at ISO 100, I could get away with 1/16 power on the Sunpak flash. Finally, I set the self-timer to a 2-second delay. I was now ready to shoot.
I activated the self timer. When I heard it trip the shutter, I threw the foam tennis ball at the blue cups. I had the Triggertrap app set to Sound Sensor. When my iPhone "heard" the ball hitting the cups, it fired the flash... almost instantaneously.
All I had to do was make sure the yellow ball hit the cups while the shutter was open on the Canon 70D. One second is plenty of time. As you can imagine, some shots looked great and others weren't as hot. It all had to do with where the ball stuck the cups.
If you want to experiment with this addicting type of high speed photography, you'll need the Triggertrap Flash Adapter ($31.23) and the appropriate mobile dongle ($31) for your camera. The Triggertrap app is a free download.
Once you have this setup, there are many creative applications. I'm already considering what my next project will be.
You might also be interested in these other uses for the Triggertrap app: Affordable WiFi Camera Remote Control with Triggertrap and Triggertrap for the iPhone - Remote Release and More.
---
Join me on my Instagram site as I explore the world of mobile photography. And now Instagram features 15-second movies too.
Want to Comment on this Post?
You can share your thoughts at the TDS Facebook page, where I'll post this story for discussion.