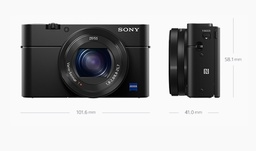 This week on The Digital Story Photography Podcast: A Preview of the Sony RX100 Mark III, Is Fujifilm Working on a Medium Format Mirrorless Camera?, The 4-Pound Urban Lighting Kit, The Difference Between Presets and Plugins - All of this and more on today's show with Derrick Story.
Story #1 - The Weekly Update: Sony RX100 Mark III Preview (Source DP Review)
In other news, Sony Alpha a7S Mirrorless Digital Camera Comes in at $2,498 via B&H Photo. The early guesses were around $3,500 for this full frame 12MP camera that features ISO 50-409600 and 4:2:2 UHD 4K Output via HDMI.
And finally, Fuji Rumored to Be Working on a Medium Format Mirrorless Camera. "Details are sparse, but the anonymous source told FR that the prototype of this mystery camera looks something like an X-Pro1, with hybrid viewfinder, but "more of a size of the Fuji GF670." The source also claims the camera uses the same Sony sensor found in the Pentax 645z." (Source: Petapixel)
Story #2 - The Difference Between Presets and Plugins for Lightroom and Aperture - Recently, I published the article Spice Up Your Image Editing with Presets and Plugins. I think both of these editing tools help bring creativity to our post production. But they are quite different. I explain how in the second segment of today's show.
Story #3 - The Nimbleosity Report: "Street Portrait Lighting Kit that Weights Less than 4 pounds. The lighting kit I'm going to use for the upcoming SF Street Shooting Workshop will include a Manfrotto MS0490A Nanopole Stand with the new Manfrotto Snap Tilthead with Shoe Mount and Cowboy Studio wireless flash triggers. The whole kit, including flash and diffuser weights less than 4 pounds. Here's more about it.
Story #4 - From the Screening Room - Video Production Techniques: Location Audio Recording with Anthony Q. Artis. When it comes to movie making, audio is half the picture. And nobody know that better than Anthony. This is a terrific title to help visual artists get the sound right.
You can watch Anthony in action by visiting the TDS Screening Room at lynda.com/thedigitalstory. While you're there, you can start your 7 day free trial to watch other design, photography, and computing titles, plus every other topic in the library.
Virtual Camera Club News
May is Wow and Double Wow Month For Mothers Day, Graduation, Engagements, June Weddings, Birthday, Fathers Day ... and, because SizzlPix! loves making you a super hero with a camera strap around your neck, order TWO: one for them; one for yourself, and your second SizzlPix! is 25% off! Any two SizzlPix!, from the same image or two different, any sizes, any hanging options, save 25% on the second or more.
Save on Ground Shipping for Red River Paper: Use coupon code ground50c to receive a 50 percent discount on UPS ground shipping for Red River Paper. No minimum purchase required.
Photo Assignment for May 2014 is "Around the House".
If you haven't done so already, please post a review for The Digital Story Podcast in iTunes.
BTW: If you're ordering through B&H or Amazon, please click on the respective ad tile under the Products header in the box half way down the 2nd column on thedigitalstory.com. That helps support the site.
Listen to the Podcast
In addition to subscribing in iTunes, you can also download the podcast file here (32 minutes). You can support this podcast by purchasing the TDS iPhone App for only $2.99 from the Apple App Store.
More Ways to Participate
Want to share photos and talk with other members in our virtual camera club? Check out our Flickr Public Group. And from those images, I choose the TDS Member Photo of the Day.
Podcast Sponsors
lynda.com - Learn lighting, portraiture, Photoshop skills, and more from expert-taught videos at lynda.com/thedigitalstory.
Red River Paper -- Keep up with the world of inkjet printing, and win free paper, by liking Red River Paper on Facebook.
SizzlPix! - High resolution output for your photography. You've never seen your imagery look so good. SizzlPix.com. SizzlPix! now is qualified for PayPal "Bill Me Later," No payments, No interest for up to 6 months, which means, have your SizzlPix! now, and pay nothing until August!
Want to Comment on this Post?
You can share your thoughts at the TDS Facebook page, where I'll post this story for discussion.