This week on The Digital Story Photography Podcast: What You Need to Know about the Canon 7D Mark II, the Wireless WD My Passport Hard Drive for Mobile Devices, iOS 8 Gets Its Photos On - All of this and more on today's show with Derrick Story.
Story #1 - Twice as good? Hands-on with Canon EOS 7D Mark II ($1,799) - After you read this piece, you will probably answer, "yes." Little goodies such as the mic and headphone jacks, to dual SD/CF slots, to new sensor and AF system, to clever advances such as the "anti-flicker" control add up to a big upgrade. (Source: DP Review).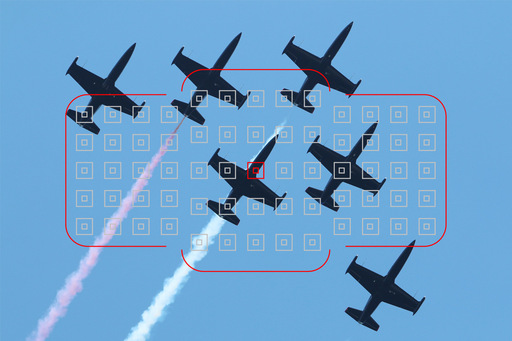 Improved AF for the Canon 7D Mark II - Those are all cross sensors.
In other news, The Olympus OM-D E-M1 ($1,399)update lands ahead of schedule - It's like a new camera in some aspects. This article provides all the new features and improvements, with links for downloading. (Source: Imaging-Resource.com).
And finally, Skip The Lab: How To Mount And Frame Prints Yourself - A terrific 15-minute movie plus text explaining a tried and true process. (Source: Fstoppers.com).
Story #2 - The WD My Passport Wireless storage ($179) for iOS and Android devices. This is the solution I've been waiting for to allow me to travel with just an iPad. The 1TB drive allows me to bring a variety of files with me -- music, video, photo, PDF, text, etc. -- and more importantly, enables my saving files from the iPad or iPhone to the device. Plus it has a built-in SD card reader for on-the-fly backup. Those files can then be read by any of your mobile devices. I discuss this gem in the second segment of today's show.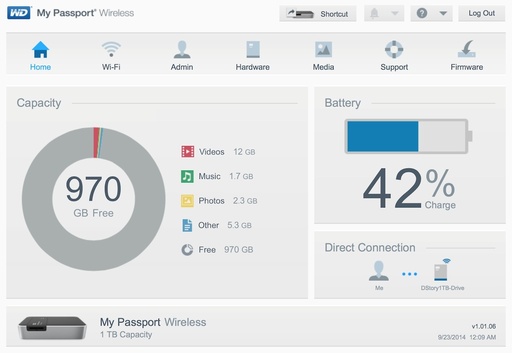 Sharp looking control panel for the WD My Passport Wireless hard drive.
Story #3 - New Editing Tools in iOS 8 Photos App (free). What a leap forward. We've gone from having virtually no editing tools in Photos app to and array of color and luminance adjustments. I provide an overview in the third segment of today's show.
Story #4 - From the Screening Room - Finding the Perfect Portrait Lens with Chris Orwig. Not only will Chris help you decide which lens is best for the type of portrait you want to capture, but he has lots of tips for using those lenses.
You can watch Chris in action by visiting the TDS Screening Room at lynda.com/thedigitalstory. While you're there, you can start your 7 day free trial to watch other design, photography, and computing titles, plus every other topic in the library.
Virtual Camera Club News
Visit the Red River Paper Card Shop. You can peruse top selling cards, order the card sample kit, and read tutorials on card printing. Save on Ground Shipping for Red River Paper. Use coupon code ground50c to receive a 50 percent discount on UPS ground shipping for Red River Paper. No minimum purchase required.
Photo Assignment for September 2014 is "Shot from Behind".
If you haven't done so already, please post a review for The Digital Story Podcast in iTunes.
BTW: If you're ordering through B&H or Amazon, please click on the respective ad tile under the Products header in the box half way down the 2nd column on thedigitalstory.com. That helps support the site.
Download the Show
In addition to subscribing in iTunes, you can also download the podcast file here (33 minutes). You can support this podcast by purchasing the TDS iPhone App for only $2.99 from the Apple App Store.
More Ways to Participate
Want to share photos and talk with other members in our virtual camera club? Check out our Flickr Public Group. And from those images, I choose the TDS Member Photo of the Day.
Podcast Sponsors
lynda.com - Learn lighting, portraiture, Photoshop skills, and more from expert-taught videos at lynda.com/thedigitalstory.
Red River Paper -- Keep up with the world of inkjet printing, and win free paper, by liking Red River Paper on Facebook.
SizzlPix! - High resolution output for your photography. You've never seen your imagery look so good. SizzlPix.com. SizzlPix! now is qualified for PayPal "Bill Me Later," No payments, No interest for up to 6 months, which means, have your SizzlPix! now, and pay nothing until January!
Want to Comment on this Post?
You can share your thoughts at the TDS Facebook page, where I'll post this story for discussion.