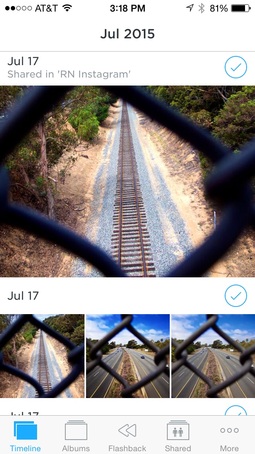 Carousel is a primary reason why I've been using Dropbox to help manage my photography. The app works on computers and mobile devices. I have it on my home screen for both the iPhone and iPad.
Essentially what Carousel does is provide a photographer-friendly window to the images I store on Dropbox. All of my mobile shots, plus bucket-loads of pictures that I publish online are organized in chronological order in a scrolling display.
Plus, I can create albums, share groups of photos with others, and even tap Flashback to see what I was shooting on this day in years past. Carousel's performance is quite good, and I have plenty of options for caching and backup, helping me customize the best photo management system for me.
In this movie, I take you on a tour of Carousel on an iPhone. This will give you a good feel for its design and performance.
The Carousel app is free, and it works with both paid and free Dropbox subscriptions. Not only does it back up every image I capture with my mobile devices, it allows me to easily find them and share with others.
More Dropbox Tips and Techniques
If you want to dig into Dropbox, take a look at my lynda.com training, Dropbox for Photographers. For those who want to learn more about Photos for OS X, I also have the title, Up and Running with Photos for OS X.
Previous articles on The Digital Story about Dropbox include:

Want to Comment on this Post?
You can share your thoughts at the TDS Facebook page, where I"ll post this story for discussion.