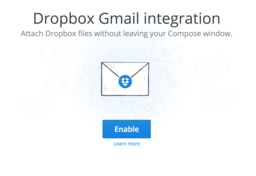 If you use Gmail with the Chrome browser, there's an easy new way to send and share photos. The Chrome extension, Dropbox for Gmail, only takes seconds to install, and adds a Dropbox icon to your composed emails allowing you to quickly attach photos.
Even though this doesn't initially sound like ground-breaking technology, in use it's quite handy, especially if you're using Dropbox to backup your mobile photos. The workflow goes something like this.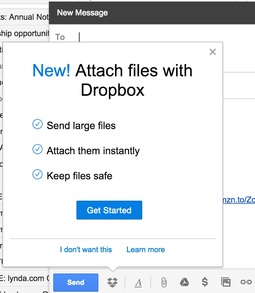 Capture images with your smartphone, tablet, and camera. They all flow into Dropbox if you're using automatic backup.
Install the Dropbox for Gmail extension, then compose an email.
Click on the Dropbox icon in the bottom left corner of your composed note. Browse your images and find what you want to attach.
Send your note. The recipient will receive the image that can be downloaded, plus a link that opens the picture in the shared environment in Dropbox. Here, comments can be added to the picture.
In my tests, I found the feature very easy to use. And since I do use Drobbox backup for my mobile images, I always have the latest pictures at my fingertips.
More Dropbox Tips and Techniques
If you want to dig into Dropbox, take a look at my lynda.com training, Dropbox for Photographers. For those who want to learn more about Photos for OS X, I also have the title, Up and Running with Photos for OS X.
Previous articles on The Digital Story about Dropbox include:

Want to Comment on this Post?
You can share your thoughts at the TDS Facebook page, where I"ll post this story for discussion.