You may not remember the innovative half frame Olympus camera of decades ago, but that form factor has returned in a premium mirrorless body. And I tell you about it in today's show.
Opening Monologue
I've been in Austin Texas for the last few days exploring this city with an Olympus PEN-F in hand. And what a combination! Colorful, friendly Austin captured in the viewfinder of this classically designed rangefinder. In this show, I'm going to talk about both... the photo opportunities in the capital city of Texas, and the newest premium digital rangefinder to record those images.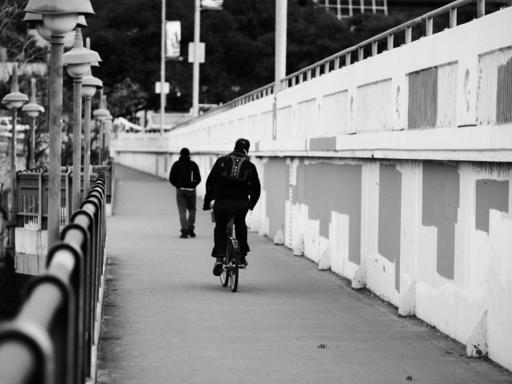 The Olympus PEN F
Here are some of the highlights of this just-announced camera.
20.3 Megapixel Four Thirds Sensor
RAW and Jpeg capture at 5184 x 3888 pixels
Innovative monochrome and color customization
5-stop, sensor-based, 5-axis, image stabilization
Left-side positioned electronic viewfinder for street shooters.
I cover my shooting experience with this camera in the top story of today's show.
Photography in Austin, Texas
What a mix of photography opportunities! You can wander 6th Street at night to immerse yourself in the nightclub music scene, tour the State Capital, explore nature at Ladybird park, and enjoy Texas hospitality at fine restaurants and hotels. I talk about my explorations in the second feature of today's show.
(Some of my favorite places to photograph and eat)
Sixth Street - Historic entertainment district.
Rainey Street - Cool bars and entertainment, a bit less touristy than Sixth.
The State Capitol - Free tour, and lots of interesting detail to photograph on the grounds.
Hope Outdoor Graffiti Gallery - If you don't mind the fumes of fresh spray paint, this is a colorful diversion.
Zilker Botanical Garden - Get your Zen on in this peaceful, but interesting sanctuary.
Torchy's Tacos!
La Condessa
The Broken Spoke honky tonk restaurant and bar
In the News
Fujifilm Planning to Launch a Medium Format Digital Camera, Report Says - covered by PetaPixel
Fujifilm is reportedly planning to shake up the camera world by launching its own interchangeable-lens medium format digital camera. Fuji Rumors writes that it got this information directly from a "top trusted Japanese source." The source states that a digital medium format Fujifilm camera has already gotten the green light from company management, so it's already in development.
"Yep, the medium format Fuji will come," Fuji Rumors says. "And if priced somewhere between the Pentax 645D [$3,400] and the Pentax 645Z [$7,000] this camera could be a real winner for Fujifilm."
Gemini, the Duplicate Finder by MacPaw
OK, how many of you have duplicate images on your Mac?. Raise your hands please. And we all know that finding and removing them manually IS NOT the way to go. So instead, try Gemini by MacPaw, a duplicate finder that does the job within minutes.
Here are the best things about Gemini:
Fast and accurate scanning algorithm that finds duplicate files and even folders.
Built-in file preview and metadata information.
Smart Auto Select that removes the copies and keeps the originals intact
iTunes and iPhoto support.
External drives and network volumes support.
Gemini's simple, fast, and safe to use, so make sure you give it a try. It's available at macpaw.com/gemini.
Member Quotes of the Week
Intelligent comments culled from The Digital Story Facebook page.
In regard to Saturday's Facebook Post: "Häagen-Dazs Ice Cream Lids Are Perfect 72mm Lens Caps" we had some terrific comments that I want to share it with you now.
Aaron: Of course it's not the cheap brand of ice cream. *Everything* in photography is expensive! :-)
Ken: Go ahead, but YOUR image will change.
Kim: Good to know to justify the ice-cream eating
John: Make sure you clean the top first! lol
Fred: The last job I did I lost my lens cap that was just that size! :-) Looks like it's time to go get a treat to fix the problem!
Ron: Now the rush starts to find all kinds of lids, for lots of lenses!
Post your thoughts on our Facebook page. Believe me, I read them.
Found Treasure
The registration forms have gone out to the reserve list for the Pt. Reyes Photography Workshop.
And finally, be sure to visit our friends at Red River Paper for all of your inkjet supply needs. And a big thanks to www.inkdot.com and ImageFramer for also supporting this podcast.
See you next week!
More Ways to Participate
Want to share photos and talk with other members in our virtual camera club? Check out our Flickr Public Group. And from those images, I choose the TDS Member Photo of the Day.
Podcast Sponsors
Inkdot.com - Specializing in wood prints and other artistic treatments of your imagery - visit www.inkdot.com.
Red River Paper - Keep up with the world of inkjet printing, and win free paper, by liking Red River Paper on Facebook.
ImageFramer Take your photos to the next level with ImageFramer. Visit www.apparentsoft.com today.
MacPaw Creators of CleanMyMac 3 and other great software for Apple computers. Visit www.macpaw.com today.
The Nimbleosity Report
Do you want to keep up with the best content from The Digital Story and The Nimble Photographer? Sign up for The Nimbleosity Report, and receive highlights twice-a-month in a single page newsletter. Be a part of our community!
Want to Comment on this Post?
You can share your thoughts at the TDS Facebook page, where I'll post this story for discussion.