This is The Digital Story Podcast #813, Oct. 19, 2021. Today's theme is "The New M1 MacBook Pro for Photographers." I'm Derrick Story.
Opening Monologue
Apple showed off its next generation of Apple Silicon processors for two new laptops, and they are impressive. Not only the speed bumps, but the actual designs of the computers are improved as well, especially for photographers. And that's our lead story for today's TDS Photography Podcast. I hope you enjoy the show.
Digital Photography Podcast 813
Tune-In Via Your Favorite Podcast App!

---

Apple Podcasts -- Spotify Podcasts -- Stitcher

Podbean Podcasts -- Podbay FM -- Tune In
The New M1 MacBook Pro for Photographers
Apple hardware presentations are usually interesting to watch. But today's unveiling of the new 14" and 16" MacBook Pros with M1 Pro processors was truly impressive. Let's take a look at the notable features for the 14" models, which I think is ideal for most photographers.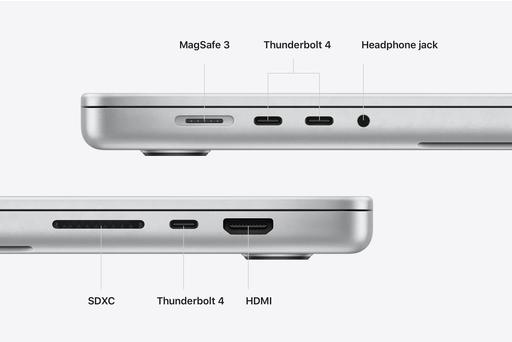 Battery Life - 17 hours video playback, 11 hours of wireless web browsing.

SSD Speed - Up to 7.4GB/s or two times the previous generation speed. Can open thousands of RAW photos at once. The base SSD is now 512 GB with an options for 1, 2, 4, or 8 TBs.

Display - Liquid Retina XDR with Extreme Dynamic Range and ProMotion with refresh rates of up to 120Hz. The resolution for the 14.2" is 3024x1964, 5.9 million pixels at 254 ppi (1 billion colors).

Video Conferencing - 1080p camera with three studio quality mics using directional beamforming to ensure a loud and clear voice. BTW: A 6-speaker sound system with spatial audio is also part of this setup.

Ports and Connections - SDXC card reader, direct HDMI output, a 3.5 mm headphone jack that detects and automatically adjusts for high‑impedance headphones, 3 Thunderbolt 4 ports, and they brought back the MagSafe port (and you still can charge via Thunderbolt as well, includes a USB-C to MagSafe 3 Cable). You can connect up to two Pro Display XDRs with M1 Pro.

Improved Keyboard - Magic Keyboard brings a full‑height function key row to MacBook Pro -- with the tactile feel of mechanical keys that pros love. It includes new keyboard shortcuts for Spotlight, Siri, Dictation, and Do Not Disturb. And Touch ID has a new, tactile ring that guides your finger for a fast, easy, secure way to unlock your Mac.

Processor - Apple M1 Pro chip with 8-core CPU with 6 performance cores and 2 efficiency cores, 14-core GPU.

Media Engine - Hardware-accelerated H.264, HEVC, ProRes, and ProRes RAW, Video decode engine, Video encode engine, and ProRes encode and decode engine.

Price - 14" M1 Pro with 16 GB Unified Memory and 512 GB SSD is $1,999 or $2,499 for the 1 TB model with 10-Core CPU ad 16-Core GPU.
Bottom line: this is an incredible laptop for photographers.
Infrared Photography Showcase from Our Recent Workshop
For the past month, our workshop photographers have been learning and practicing techniques for producing infrared images. Our class presentation was on Saturday, and I wanted to share a sample of the wonderful work they produced.
You can see the gallery here.
During the class presentation, each photographer talked about his or her images, shared the processes they used to create them, and discussed their plans for future work.
And because these are online events, we have participants from all over the world, ranging from England, to the U.S. east coast, the midwest, and California. So not only do they bring their unique artistic visions, but also a sense of where they live and what life is like there.
If you want to learn more about our online classes, visit The Nimble Photographer Workshops page. Among the other events, our next infrared photography workshop is scheduled for May 2022.
Apple's Most Tricked-Out M1 Max-Powered MacBook Pro Costs $6,099
You can read the entire article on PetaPixel.com.
The most tricked-out 16-inch MacBook Pro with M1 Max will cost $6,099 which is significantly more than the max price of $2,300 for the first M1 13-inch MacBook Pro announced last year.
While Apple said that the 16-inch M1 Max-powered machine starts at $3,500, it's not hard to almost double that. Jumping from 32GB of unified memory up to 64GB of unified memory adds $400, and moving to 8TB of SSD storage capacity up from 1TB adds a whopping $2,200. Together, that brings the final price to $6,099.
Luckily, most won't need that much internal storage thanks to the abundance of Thunderbolt ports that support blazing fast external storage. If the base 1TB SSD isn't touched, the most powerful MacBook Pro Apple has ever made costs a much more approachable $3,900. That's not anything close to cheap, but if Apple is to be believed, this computer is set to make the M1, which already roasted much of the competition, look slow by comparison.
Sony teases the Sony a7 IV, confirms October 21 announcement
You can read the entire article on DP Review.
Sony has announced the forthcoming premiere for a new Alpha camera set to debut in just three days, at 10am EDT / 15:00 BST / 22:00 SGT on October 21.
As tends to be the case with many of these YouTube premiere teasers, Sony doesn't reveal any details about the camera in the video's description or in the placeholder image. That is, aside from the confirmation it will be a Sony Alpha camera system and its announcement date.
October 21 should prove to be an exciting day for Sony full-frame mirrorless camera fans.
Virtual Camera Club News
Inner Circle Members: A big thanks to those who support our podcast and our efforts! (And welcome to our new members.)
My Writing on Medium.com: I now have 46 published articles on Medium.com. And if you haven't visited the site, and enjoy good writing on a variety of topics, I suggest that you may want to take a look. You can just go to the home page and enter "Derrick Story" in the search field. And if you like what you read, then follow me!
The New Donation Kit for Carefree Shipping of Found Film Cameras - If you've discovered a film camera that's no longer being used, our new Donation Kit makes it easy to pack and ship. Just visit the Contact Form on thenimblephotographer.com, click the box next to Donating a Film Camera, and let me know what you have. In your note, be sure to include your shipping address.
Affiliate Links - The links to some products in this podcast contain an affiliate code that credits The Digital Story for any purchases made from B&H Photo and Amazon via that click-through. Depending on the purchase, we may receive some financial compensation.
Red River Paper - And finally, be sure to visit our friends at Red River Paper for all of your inkjet supply needs.
See you next week!
Product Links and Comments
There are product links in this article that contain affiliate tags. In some cases, depending on the product, The Digital Story may receive compensation if you purchase a product via one of those links. There is no additional cost to you.
You can share your thoughts at the TDS Facebook page, where I'll post this story for discussion.