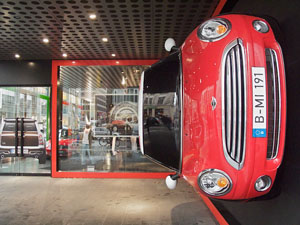 "I shot this in Berlin during the November anniversary of the fall of the Berlin Wall," writes Roderick James. "This Mini dealership near what was Checkpoint Charlie had a Mini 'stuck' to the wall. Shot using my Canon G10, 30th sec @ f2.8, ISO 800."
"Usually, I wouldn't consider shooting at ISO 800 on my compact camera, but at least I was able to get the shot. Upon my return from the trip, I downloaded Derrick's podcast (no. 204) which convinced me I was right to 'loosen up' a little."
This is a perfect example of what I discussed in the ISO podcast. At ISO 100, the shutter speed would have been around 1/4 of a second, and the image would have been soft from camera shake.
Photo by Roderick James. Click on image to zoom to larger size.
If you have a candid you'd like to share, take a look at our Submissions page, then send us your Grab Shot. We'll try to get it published for you on The Digital Story.
And you can view more images from our virtual camera club in the Member Photo Gallery.
---
-
---
Technorati Tags: candid, digital photography, grab shot, The Digital Story