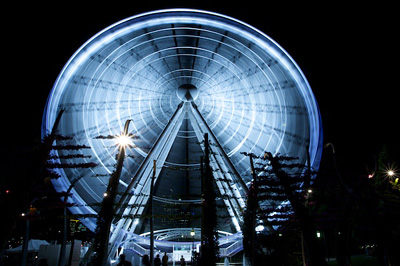 "Here's a shot I took while attending a City Lights workshop held at dusk in Brisbane, Australia," writes Paul Merrett. "The science fiction looking device shown is a 60m (200 ft) high ferris wheel called The BIg Wheel. We had started shooting it from different angles while the sunlight faded."
"I decided to try a shot of The Big Wheel from much further back. For this version, the white balance was set to Tungsten as a suggestion from the instructor who wanted us to experiment with different settings. Other parameters were, ISO 50, f22, 17-40mm f4L lens set to 17mm, Canon 1D Mark III, tripod and self timer."
"When I reviewed the shots later in Aperture, I liked this one the most -- even better than the other "correctly white balanced" frames, and better than the faster shutter speed shots that clearly showed the gondolas attached."
If you have a candid you'd like to share, take a look at our Submissions page, then send us your Grab Shot. We'll try to get it published for you on The Digital Story.
And you can view more images from our virtual camera club in the Member Photo Gallery.
---
-
---
Technorati Tags: candid, digital photography, grab shot, The Digital Story