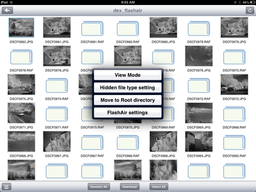 Author's Note - Good news! Olympus has brought OI Share back to the App Store, and with a new look. You can read all about it here: Olympus Image Share for iOS is Back in App Store, dated June 18, 2013.
One of my favorite companion apps for the Toshiba FlashAir card is the Olympus OI Share app that I cover on pages 20-21 of the book, "iPad for Digital Photographers." Unfortunately, the app is currently not available in the iTunes App Store.
I don't know if this is a temporary situation or if it's gone for good. And I have no information as to why. I'm hoping that it's being replaced by a more robust application. If that's the case, I will certainly post about it here.
In the meantime, if you already have Olympus OI Share, hang on to it. I think it's very useful. If you didn't have a chance to grab it before its disappearance, you can use the FlashAir app (shown above), which is free, or ShutterSnitch that costs $19.99.
For those who haven't purchased the Toshiba FlashAir card, consider the brand new Eye-Fi Mobi that provides the same direct access as Toshiba FlashAir, but connects to a free Eye-Fi app that is excellent.
In the meantime, I'll monitor the situation.