I have a handsome Timex Intelligent Quartz chronograph that I wore for years before my first Apple Watch, and plan on owning for years to come. One month ago I had to retrieve it from my dresser drawer, take it to the shop, and get a new battery for it. It was going to be my companion for the next 30 days.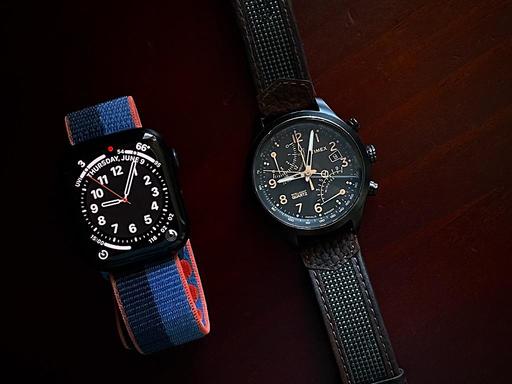 How I Ended Up Without an Apple Watch
I didn't plan on going retro. It just sort of happened. Theresa had bought my first Apple Watch, a Series 2, five years ago for a momentous birthday. With another big celebration on the horizon, she decided that it was time for me to update to a Series 7. No argument from me.
"They have a promotion going right now where you can trade in your current timepiece for a credit. Let's go to the store and do that," she said.
I picked out my new watch with a cool summer-flavored band. But when it came to get credit for my Series 2, we were informed that it was too old. No one wanted it. (But it still worked fine!)
My intention all along was to leave it in the hands of Apple where it would be used or recycled responsibly. So we left the store without it, and with my gift in a clean white paper bag. Problem was, my birthday was a month away.
As we left the mall without anything on my wrist, I realized my miscalculation. (Hey... wait a minute!) That's where the Timex reenters the scene.
What I Missed Returning to Analog
At first it was fun to wear the Timex again. It's a flyback chronograph, so I can reset its stopwatch by just pressing a button and watching the fourth hand sweep back to the top. But it's a cumulative timer without any sort of warning. So I had to keep an eye on it when timing the chicken on the BBQ. After a few close calls, I opted for using the timer on my phone instead.
I became more lax about workouts without my cheerleader watch encouraging me to get off my butt and exercise. I mindlessly strayed out into UV 6 sunshine without sunblock, missed text messages and phone calls, and had to calculate tips in my head. I was a first-world-problems mess.
On the upside, I did catch the occasional approving nod from classic watch aficionados who didn't realize my handsome chronograph was actually a Timex.
Finally, My Birthday
Fast forward to Tuesday evening when I opened my birthday gift. There was my new Series 7 - a larger more legible watch face, new Blood Oxygen and ECG measurements, Apple Pay, weather, workouts, and yes, the timer. (It will even tell me when I fall down. Hope that doesn't happen.) Within 30 minutes I had everything set up just right.
Fortunately, I had only gained one pound during my digital hiatus. But a pound a month equals 6 more by year's end. Now I'm back on track. I closed all of my rings yesterday, applied sunblock at the appropriate time, and didn't burn the chicken. Life feels normal again.
I'm going to leave my handsome Timex on the nightstand for a while. I'm grateful for its service in my time of need. But I have to say, five years from now when I'm ready to turn in my Series 7, I'm going to make sure the new watch is on my wrist before I leave the store.
You can share your thoughts at the TDS Facebook page, where I'll post this story for discussion.