Macphun has created a new Editing Extension for Photos users, and it's a blast. Filters for Photos is a quality, editable, effects app that allows you to apply a variety of filters, then edit them with an easy to use masking tool. And if that wasn't good enough, the download is free.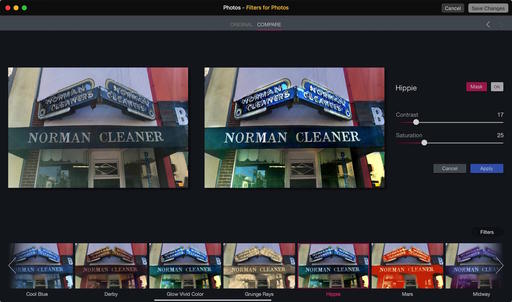 An array of interesting filters to choose from. Images by Derrick Story.
When you first download the app, you get 15 filters. If you opt-in for their mailing list, you'll receive another 15 filters (they're automatically added to the app) for a total of 30. You can use the app as a standalone, or enable it as an Editing Extension for Photos for OS X (System Preferences > Extensions > Photos > Filters for Photos).
When you first load an image, it appears in the browser with thumbnails of the filter options below. Simple click on the effect you want, and it's applied. You can use the contextual sliders to adjust further. Or, click on the Mask button and paint the effect specifically where you want it. The masking toolset has everything you need, and it's easy to use.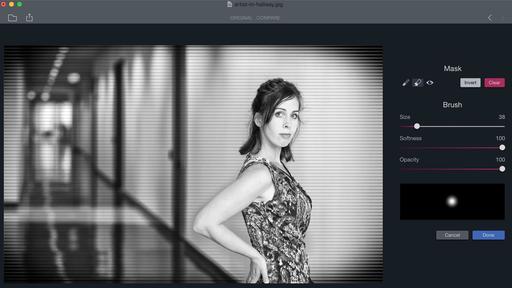 The masking tool is easy to use and powerful.
After just a half an hour or so of playing with Filters for Photos, I was quite comfortable applying and editing the effects. And if you're using it as an Editing Extension, which I recommend, then the image is integrated into your Photos for OS X library, and the work is totally non-destructive.
Filters for Photos is a fun app that belongs in the toolbox for any Mac photographer.
Coming Soon: The Apple Photos Book for Photographers
I've been working on a guide to Photos for OS X that's written for photographers who want to use this application at a high level. I cover workflow, iCloud integration, and editing... at the enthusiast level.
We're releasing the eBook version soon, then will go to print after Apple announces its updates to the app at WWDC. This is an exciting, ongoing project that I think you'll want to be a part of. And you can join me every step of the way via the signup page we've created. This is going to be fun...
Master Photos for OS X
(It's More Powerful than You Think)
For hands-on tutorials, be sure to take a look at Photos for OS X Essential Training on lynda.com. I cover everything you need to know to get the most from this surprisingly powerful image management application.
More Help and Insights on Photos for OS X
Don't forget about the Photos for OS X Special Feature Section on The Digital Story. It's a roundup of tutorials, videos, and articles focused on helping you master Apple's latest photo management software. You can also find it under Photography in the top nav bar.
Want to Comment on this Post?
You can share your thoughts at the TDS Facebook page, where I'll post this story for discussion.