State of the art technology melded with Olympus Pen tradition, the E-P1 digital camera is a new breed of DSLR featuring HD video, Raw format, micro 4/3rds, in a stylish stainless steel compact body. In this podcast, I walk you through the feature set of this latest innovation by Olympus.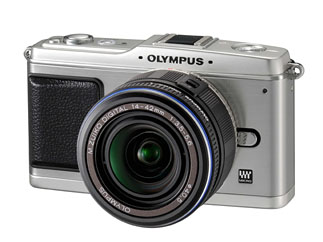 Pros
Well-crafted, attractive stainless steel body.
Raw, JPEG, and 720p recording formats.
Excellent image quality with 12.3 MPs resolution.
Good combination of manual controls and automation.
Many creative features such as multiple exposure.
Clear menu system and easy to use camera controls.
SD and SDHC memory card instead of xD Picture Card media.
HDMI output.
Cons
Motion JPEG AVI codec instead of MPEG-4.
No external microphone jack.
The Olympus E-P1 kit with 14-42 mm lens will be available at Amazon.com for $799 US.
Monthly Photo Assignment
Splash is the June 2009 Photo Assignment. You can capture anything from a child jumping in a pool to an olive dropping into a martini. You can read more about how to submit on our Submissions page. Deadline for entry is June 30, 2009.
Listen to the Podcast
You can also download the podcast here (24 minutes). Or better yet, subscribe to the podcast in iTunes.
Want to share photos and talk with other members in our virtual camera club? Check out our new Flickr Public Group. It's a blast!
---
-
---
Podcast Sponsors
SiteGrinder lets you take ownership of your websites. Effortlessly output pages right from Photoshop.
Red River Paper -- Try the $7.99 Sample Kit.
Add Magic to Your Slideshows -- FotoMagico presentations are so amazing that your audience will be asking how you did it.
---
Technorati Tags: digital photography, podcast, technique, Technology, The Digital Story, tips