This is The Digital Story Podcast #743, June 16, 2020. Today's theme is "Questions I'm Asking Myself Before Wielding a Camera Out on the Streets." I'm Derrick Story.
Opening Monologue
I saw an aerial photograph yesterday of a weekend protest in Los Angeles. For as far as the eye could see, people filled a wide boulevard from side to side. As a street photographer, my initial impulse was to be a part of it; to document this momentous moment in time. But I had to remind myself that this is not a Sunday farmers market, and that I need to be honest about justifying my presence. Those thoughts are the lead story of today's TDS photography podcast.
Questions I'm Asking Myself Before Wielding a Camera Out on the Streets
Over the years I've earned a fair amount of street creed for my urban photography. I've lead workshops, published photos, and written articles. But all of that means nothing right now in any big city in America.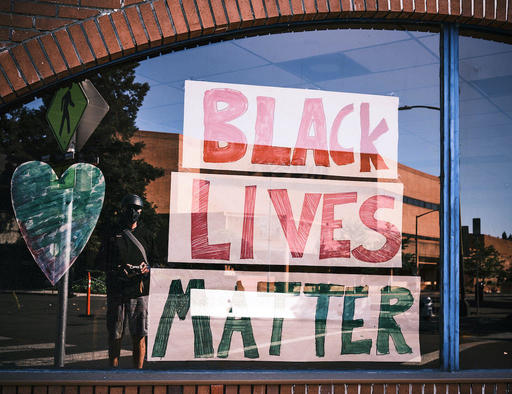 Why? Because what's going on at the moment is far more important than any photo project that I'm working on. To be honest, my credentials are not valid in downtown LA, Atlanta, or Minneapolis.
That doesn't mean that I stand on the sidelines or that I can't document what's going on. But I need to ask myself some hard questions first to help me proceed with integrity.
Here are three of those questions.
What is to be gained by my presence?
- My view is, that every person who is peacefully protesting has purpose. So, as a photographer, what would mine be? To be able to post a cool image in Instagram is not a legitimate reason to be there taking pictures. I need to be better than that.

Am I confident that my images would send the message that I intend? - This is a tricky one. People are often blinded by their biases. A perfect example is someone who tells you they don't have any. My personal feeling is that we need some knowledge about our subject to accurately report on it. I have never been on the receiving end of racism. And even though I hate the thought of it, I may not be qualified to document it. Bottom line, I'm not confident that I know where all of my blind spots are. I want to do the right thing.

What is the best way for me to participate? - I think by doing this. By offering things to consider to help our community of photographers come as close to their intentions as possible. To urge people to look inside before taking their cameras outside and putting them in the face of another.
Photography can be such a powerful medium. And I think this moment in time presents a good opportunity for us to talk about the responsibilities that come with that power.
One ideal that I've tried to embrace over the years when taking pictures on the street is to show respect for life and acknowledge that my view of the world is probably different than many of those whom I photograph. So far, that guiding light has served me well.
So, in that spirit, I'm going to try to be as honest with myself before taking my camera out on to the streets.
Just Released! Organizing and Archiving Digital Photos
It's a concern that lingers in the mind of just about every digital photographer: "How do I preserve my digital images and make them accessible while doing so?"
If you've had those thoughts, then help is available now. My latest LinkedIn Learning/lynda.com title, Organizing and Archiving Digital Photos is a complete course that shows you a variety of options and techniques to take control of protecting your image collection.
As your photo library grows, it becomes more important to back up your work. In this course, I teach the concepts and techniques behind efficient photo management for the long haul. First, I compare a few selected photo storage philosophies and techniques. I then show you how to create an ultralight backup system for travel, also back up photos stored on a laptop (or desktop), and finally, review archiving strategies for storing photos for decades.
Here are just a few of the talking points that I cover in the training.
Creating an ultralight backup system for travel.
Sending images from cameras to mobile devices.
Internal vs. external hard drives (both have their roles).
Organizing photos in managed vs. referenced catalogs vs. Finder-based.
Re-archiving images from older hard drives (do this before they fail!).
Integrating cloud services into your overall strategy.
Including a few tips you might not have considered, such as making archival prints of your best images.
You can start fine-tuning your workflow today by watching Organizing and Archiving Digital Photos on LinkedIn Learning and on lynda.com. It's a great way to begin the process of protecting your digital media for years to come.
Are Canon's Rumored Super-Telephoto Lenses a Serious Threat to Olympus?
You can read the entire article here that's published on Fstoppers.
Canon is offering super-telephoto lenses as well as 1.4x and 2x teleconverters. What does this mean? A full frame Canon mirrorless body will be able to shoot at 600mm and 800mm, heavily encroaching on where Olympus does its best work, but with a significantly better sensor. Now admittedly, the widest aperture of an f/11 lens and whether the 100-500mm, 600mm, and 800mm are compatible with the teleconverters is up for debate, but it's probably unlikely. I would say 1,600mm at f/22 and the autofocus still working is borderline impossible, but I'm not sure on that matter.
Canon RF 50mm f/1.8 STM
Canon RF 85mm f/2 Macro IS STM
Canon RF 70-200mm f/4L IS USM
Canon RF 100-500mm f/4.5-7.1L IS USM
Canon RF 600mm f/11 DO IS STM
Canon RF 800mm f/11 DO IS STM
Canon RF 1.4x
Canon RF 2.0x
Really?
The Essential Steps to Impressive Video Conferencing
If you want to learn more about looking and sounding great for your next online interaction, then I think you'll very much enjoy my latest online workshop, The Essential Steps to Impressive Video Conferencing.
This 1-hour deep dive focuses on the 3 major areas of successful online interaction: Audio, Video, and Environment. During the course, I walk you through a variety of techniques that range from simple using gear that you already have, to improving your chops through a few inexpensive purchases.
The course is currently available for free to our Inner Circle Members on Patreon. Members, just go to our Patreon site, and all the information will be there. If you're not already an Inner Circle Member, you can join us for $5 a month.
The course is also available on our Nimble Photographer Workshop Page for $14.95.
I have tons of great tips and techniques waiting for you there. If you want to get serious about how you come across during online meetings, classes, interviews, and family interactions, then you definitely will want to watch this course.
Digitizing Family Memories Course Now Available Online
Each of the four classes will outline a specific set of steps for you to accomplish. By the end of the course, you will have an organized digital archive of your most valuable family images.
You can sign up for the course by visiting the Workshops page on The Nimble Photographer. The course fee is a reasonable $39 (on sale right now). It includes the 4 class videos, class notes, and access to the class forums that are a part of each movie.
Updates and Such
Inner Circle Members: A big thanks to those who support our podcast and our efforts!
Due to the coronavirus pandemic, we've had to postpone our July photography workshop at Lassen Volcanic Park. We so still have on the schedule, however, our Eastern Sierra event in October.
How to Watch Photos for macOS Catalina and iPadOS - Learn everything you need to know about Photos for the Mac and iPad by checking out my latest course on LinkedIn Learning and on lynda.com. This course is perfect for Mac and iPad based photographers who shoot with iPhone, Mirrorless, and DSLR cameras. It covers both photography and movies. And if I say so myself, it's a lot of fun.
B&H and Amazon tiles on www.thedigitalstory. If you click on them first, you're helping to support this podcast. (The Digital Story is supported by its audience. When you purchase through links on our site, we may earn an affiliate commission.) And speaking of supporting this show, and big thanks to our Patreon Inner Circle members:
Affiliate Links - The links to some products in this podcast contain an affiliate code that credits The Digital Story for any purchases made from B&H Photo and Amazon via that click-through. Depending on the purchase, we may receive some financial compensation.
And finally, be sure to visit our friends at Red River Paper for all of your inkjet supply needs.
See you next week!
More Ways to Participate
Want to share photos and talk with other members in our virtual camera club? Check out our Flickr Public Group. And from those images, I choose the TDS Member Photo of the Day.
Podcast Sponsors
Red River Paper - Keep up with the world of inkjet printing, and win free paper, by liking Red River Paper on Facebook.
The Nimbleosity Report
Do you want to keep up with the best content from The Digital Story and The Nimble Photographer? Sign up for The Nimbleosity Report, and receive highlights twice-a-month in a single page newsletter. Be a part of our community!
Want to Comment on this Post?
You can share your thoughts at the TDS Facebook page, where I'll post this story for discussion.