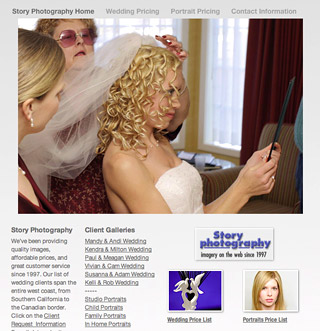 A well-designed website to show off your photography is an effective store front for photographers. In this podcast, I discuss the importance of having a web presence, for amateurs as well as professionals. The process of assembling your images for online publication has similar benefits to putting together a print portfolio. It forces you to cull your best work and think about your strengths and weaknesses as a craftsman and an artist.
I then cover a few tips for building a site quickly. Today's web tools make this process much easier than a few years ago. I recently redesigned my Story Photography web site in just 3 hours using Apple's new iWeb application. I wrote about this experience in the post titled, Putting iWeb to the Test. You might want to read this post, no only for my description of the process, but also because there are lots of comments, pro and con, about iWeb as a Web building application.
Giles Turnbull also posted a good overview of three Mac web builder tools in his article, Mac OS X Web Builder Face-Off. Windows users have some solid options too. The leading contender is time-tested Dreamweaver 8, but it's a pricey $399 -- probably more than you want to spend. But fear not, you can get NVU, an open source web authoring tool for free. It's available for download for Windows, Linux, and Mac platforms.
Listen to the Podcast
Now that I've piqued your curiosity, it's time to listen to today's audio show titled, "Build Your Own Photo Web Site." You can download the podcast here (33 minutes).
Technorati Tags: digital photography, podcast