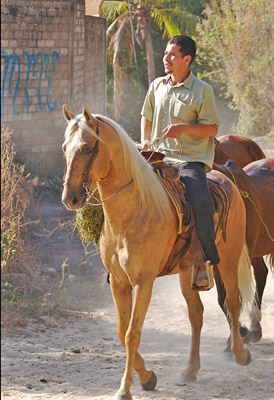 Where do you draw the line when taking pictures of strangers on location? Do you always need permission first? Is a model release necessary for every shot that includes a person? What's the difference between assertive and obnoxious?
During my last trip to Mexico, I had a good conversation with photographer-friend Ben Long that addressed these very topics. We were taking pictures in villages on the outskirts of Puerto Vallarta and found ourselves discussing what's appropriate and what isn't.
For example, the photo of the young man riding a horse was a situation where he knew I was taking photos of him. At one point he even smoothed his hair. I never asked formal permission, but did make eye contact before I took the shots. Since he is recognizable in this composition, I would not use this photo for commercial purposes. I didn't get a model release. But I am comfortable using this picture for teaching and reporting.
The second picture, below, is of a woman washing clothes in a stream. I was on the other side of the water with a steep grade between us. I was not able to interact with her during the shoot. Even though she is not recognizable by my definition, I would not use this shot for commercial purposes either. Technically, I believe I could. But I would be more comfortable with a model release. So, I'll use this image for teaching and leave it at that.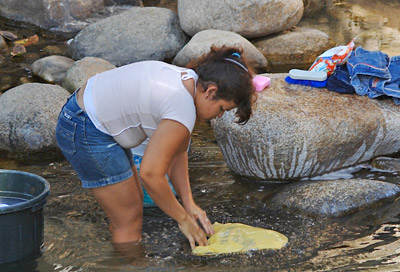 I have no absolute rules on this subject. I've included these images as part of the discussion. Keep them in mind as you listen to Ben and I talk about our adventures in Mexico.
Listen to the Podcast
Now that I've piqued your curiosity, it's time to listen to today's audio show titled, "Street Shooting Etiquette." You can download the podcast here (22 minutes).
Technorati Tags: digital photography, podcast, tips