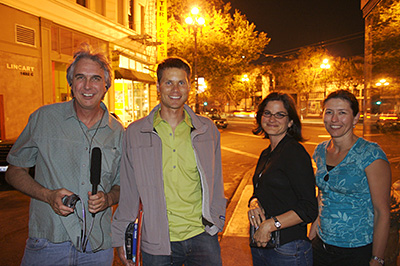 Members of the Iceland Adventure Team - Photo by Richard Morgenstein
On July 27 I board a plane for Iceland as part of a team of photographers aiming to capture the beauty of this land and process the images using Adobe Lightroom. This project is really two adventures in one. The first is to work in the stunning but challenging Iceland landscape where the days are 22 hours long and weather is unpredictable. The second is to use a new workflow based on Adobe Lightroom loaded on to laptops for field use. There are many variables surrounding this project, and I don't think anyone knows how it's going to go.
We've created a page that will cover the Adventure before, during, and after we return from Iceland. So you if want to find out more details, take a look at the official Adobe Lightroom/Photoshop Adventure 2006 site.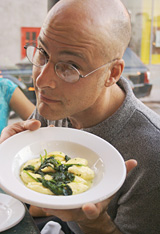 In this podcast I talk about preparing for the trip to Iceland, provide some tips for traveling photographers, and interview members of the Adventure team. In the photo above, I'm on the left (with my portable recorder and mic), then Martin Sundberg, Angela Drury, and Addy Roff. The photo was taken by Adventure photographer Richard Morgenstein (shown on the right). The team interview included in this show is informative, and I think will give you a good taste of the type of shooters going on this trip.
Listen to the Podcast
Now that I've piqued your curiosity, it's time to listen to today's audio show titled, "Iceland Adventure" You can download the podcast here (27 minutes).
Technorati Tags: equipment, digital photography, podcast, Iceland