This is The Digital Story Podcast #817, Nov. 16, 2021. Today's theme is "So, How Did It Go?" I'm Derrick Story.
Opening Monologue
When you've been away from them for a while, it's easy to forget the joy of an in-person workshop. That is, until you're all gathered there in a parking lot at a beautiful location getting your gear together for a short hike and a shoot. Then it all comes roaring back. This week we're going to look at the adjustments required, and the resulting rewards, of a physical workshop. And look ahead to 2022. I hope you enjoy the show.
Digital Photography Podcast 817
Tune-In Via Your Favorite Podcast App!

---

Apple Podcasts -- Spotify Podcasts -- Stitcher

Podbean Podcasts -- Podbay FM -- Tune In
So, How Did it Go?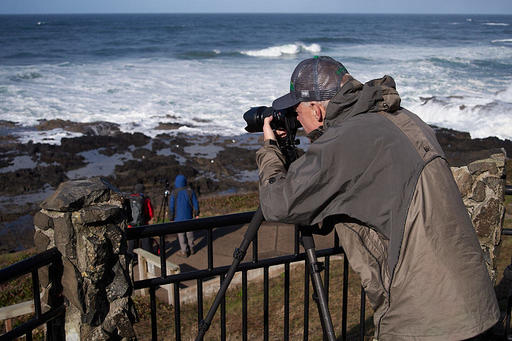 I rolled in to Florence Oregon about 5 pm the night before our event began. I had the VW packed with food for breakfasts and lunches for the first two days, plus my outdoor gear and cameras.
Our headquarters had a great kitchen with a large island that we used to prepare and pack our lunches each day before heading out to a beautiful location.
In order to keep everyone as safe as possible, we had to wear masks when entering HQ and working in the kitchen. The first order of business was to wash hands every time you entered. If you were closer than 6' to another indoors, masks were required, including for all car rides.
I know it sounds like a lot, but it was easy, especially compared to what we got to do together. We shared breakfast every morning at HQ, ate our sack lunches in the field during our shoots, and even had a dinner bash on Thursday night with food provided by Mo's Seafood and Chowder there in Florence. And yes, the chowder was delicious.
We had rain everyday. But we were totally prepared for it and the result was dramatic photography that we shared with one another during the final presentations.
For vehicles, we had a Toyota RAV4, Nissan Rogue, and the VW ID.4. We took turns riding in the different cars.
After it was over, I gathered a couple of our Inner Circle Members, Dave and Michael, plus a few new folks, Cindy and Bill, to join Scott and me for a quick recap. Here's what they had to say.
Insert voice snippet from charging stop here.
On our TDS Facebook page, Kim added: "It was an awesome workshop, awesome fellowship, and awesome to be 'tested by the elements'!"
The thing that really jumped out at me was, how much I miss working with others in person. And now that we've got one under our belts, I'm ready to move forward with more in 2022.
So here's a preview of what I'm working on. I should have the schedule finalized by early December.
Humboldt Redwoods in April 2022 is a go.
Lassen Volcanic Park in July is going to be replaced with another physical event due to the extensive fire damage to the area.
Oregon Coast in October/November 2022 is a likely go at the moment. I'll know more about that in the coming weeks.
Patreon Members, stay tuned for an opportunity to suggest a location to replace the July workshop and possibly for a fourth event during the year.
We're also going to maintain a full slate of online events in 2022. That schedule will also be updated in December with new events added to our existing popular ones.
I am very excited about the prospects for the coming year for our photography community.
Nikon's new firmware updates for its Z50, Z5, Z6 and Z7 cameras improve AF performance
You can read the entire article on DP Review
Nikon has released minor firmware updates for nearly its entire Z mount mirrorless camera lineup. The Nikon Z6 and Z7 receive firmware version 3.40 while the Z5 and Z50 receive firmware versions 1.20 and 2.20, respectively.
Each of the firmware updates improve autofocus (AF) capabilities across the board, but the updates for the Z5 and Z50 aren't as substantial as those for the Z6 and Z7. For the Z5 and Z50, Nikon says both Face and Eye Detection autofocus modes have been improved when using a flash unit. The Z6 and Z7 receive that improvement, as well as improved eye detection performance when shooting with 'Auto-area AF' or 'Wide-area AF(L)' autofocus modes, and an increased refresh rate for the focus point displayed in the EVF when using face/eye-detection and subject-tracking autofocus modes.
All of the firmware updates also add support for Nikon's new FTZ II mount adapter and NIKKOR Z 24-120mm f/4 S lens. The updates are available to download today for their respective cameras.
Virtual Camera Club News
Inner Circle Members: A big thanks to those who support our podcast and our efforts!
My Writing on Medium.com: I now have 46 published articles on Medium.com. And if you haven't visited the site, and enjoy good writing on a variety of topics, I suggest that you may want to take a look. You can just go to the home page and enter "Derrick Story" in the search field. And if you like what you read, then follow me!
The New Donation Kit for Carefree Shipping of Found Film Cameras - If you've discovered a film camera that's no longer being used, our new Donation Kit makes it easy to pack and ship. Just visit the Contact Form on thenimblephotographer.com, click the box next to Donating a Film Camera, and let me know what you have. In your note, be sure to include your shipping address.
Affiliate Links - The links to some products in this podcast contain an affiliate code that credits The Digital Story for any purchases made from B&H Photo and Amazon via that click-through. Depending on the purchase, we may receive some financial compensation.
Red River Paper - And finally, be sure to visit our friends at Red River Paper for all of your inkjet supply needs.
See you next week!
Product Links and Comments
There are product links in this article that contain affiliate tags. In some cases, depending on the product, The Digital Story may receive compensation if you purchase a product via one of those links. There is no additional cost to you.
You can share your thoughts at the TDS Facebook page, where I'll post this story for discussion.