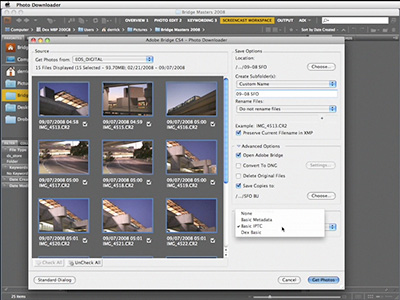 Photo Downloader is an immensely useful application that you may already have on your computer. It's part of the Adobe Photoshop CS3 package, and it comes with Photoshop Elements 6 for the Mac. I've posted about Photo Downloader in the past, but during my teaching, I'm still finding that most people don't realize they have it.
So in this show, I cover all the wonderful functions of this program. I also describe a bit about how it can become an important part of your workflow, especially if you haven't made the move to Lightroom or Aperture yet.
Monthly Photo Assignment
Angular is this month's photo assignment. Just about everything intersects at some sort of angle... lots of possibilities for this one. You can read more about how to submit on our Submissions page. Deadline for entry is April 30.
Listen to the Podcast
Now that I've piqued your curiosity, it's time to listen to today's audio show titled, "Photo Downloader." You can download the podcast here (25 minutes). You can also subscribe to the podcast in iTunes
The Digital Story Podcasts are available for direct download from Apple iPhones. I've created a special mobile download page here. Just load the page in Safari, browse the podcast line-up, and click on the one you want to listen to.
Want to share photos and talk with other members in our virtual camera club? Check out our new Flickr Public Group. It's a blast!

Events! See the TDS Event Calendar for photography workshops, speaking engagements, and trade show appearances.
---
Technorati Tags: digital photography, podcast, technique, Technology, The Digital Story, tips
---
Sponsor Notes...
Lowepro Bags for Photographers On the Go -- Lowepro gear for every type of camera rig, every type of photographer.
Add Magic to Your Slideshows -- FotoMagico presentations are so amazing that your audience will be asking how you did it.