This is The Digital Story Podcast #814, Oct. 26, 2021. Today's theme is "Inside a Live Photo Critique." I'm Derrick Story.
Opening Monologue
Have you ever wondered what actually goes on when a bunch of photographers critique the work of their peers? This week, you'll have that chance. I'm going to share a conversation from our recent class presentation for the Infrared Photography Workshop. Plus, I'm going to talk about Instagram and my favorite iPhone accessory. All of that, and more, on today's TDS Photography Podcast.
Digital Photography Podcast 814
Tune-In Via Your Favorite Podcast App!

---

Apple Podcasts -- Spotify Podcasts -- Stitcher

Podbean Podcasts -- Podbay FM -- Tune In
Inside a Live Photo Critique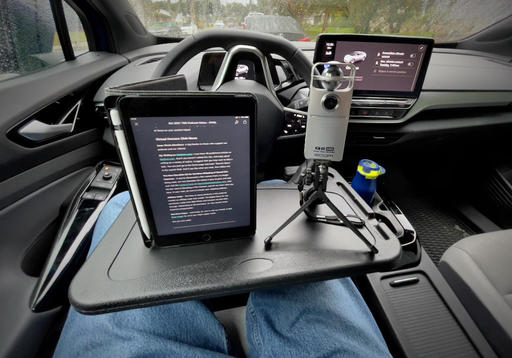 This show was recorded inside my VW ID.4 on a rainy day in Southern California using a Zoom portable recorder and my iPad mini on a steering wheel tray.
The class presentation is the highlight of any TDS workshop, online or physical. The segment I'm going to play for you now is from our recent Infrared Photography Workshop. I think you'll find it entertaining and illuminating.
Instagram Now Allows Photo Upload from Desktop
I just posted my first IG image uploaded from the desktop of my Mac. The workflow isn't bad at all.
I started by going to my IG page via the Safari web browser. I then clicked on the new "+" icon that appears in the toolbar.
Once I selected the image I wanted, I had basic cropping options, some filters, and a few adjustments as well. I could add location and description too.
The upload went well, and the shot looks great on all my devices. A welcome addition to the Instagram workflow.
The Moment Multi-Threaded Mount - My Favorite iPhone Accessory Ever
You can read the entire article on The Digital Story.
I'm surprised at how often I want to connect an iPhone to some sort of tripod. Yes, it's a mobile device, but it's so good at so many things.
And if you're a photographer who appreciates the imaging athleticism of the iPhone 12 and 13, then you realize that their capabilities can stretch into areas that we traditionally used a tripod for, such as time-lapse, video interviews, panoramas, and night photography.
The problem was, until a week ago for me, that I hadn't discovered a satisfactory way to connect my iPhone 12 Pro Max to any type of 3-legged beast, large or small. That is, until I found the Moment Multi-Threaded Mount for MagSafe (best deal: $29.95).
This machined disc that feels like a slim hockey puck has a powerful magnet on one side that attaches to the MagSafe connector on the back of an iPhone 12 (or later), and an array of 3/8" and 1/4" female threads on the other. Now I can attach my iPhone to practically anything.
I can use the adapter with a MagSafe compatible case on, or just on the phone itself, making it the simplest and most versatile mobile photo accessory that I've to date. Just pop it on and it stays put.
In addition to attaching the phone to a tripod, I can also use the adapter to connect flash adapters, microphone holders, magic arms, and anything else that uses a 1/4" thread. I can even hitch the iPhone to a camera.
If you're serious about iPhone photography, then you'll want one of these on your pocket tripod.
Virtual Camera Club News
Inner Circle Members: A big thanks to those who support our podcast and our efforts!
My Writing on Medium.com: I now have 46 published articles on Medium.com. And if you haven't visited the site, and enjoy good writing on a variety of topics, I suggest that you may want to take a look. You can just go to the home page and enter "Derrick Story" in the search field. And if you like what you read, then follow me!
The New Donation Kit for Carefree Shipping of Found Film Cameras - If you've discovered a film camera that's no longer being used, our new Donation Kit makes it easy to pack and ship. Just visit the Contact Form on thenimblephotographer.com, click the box next to Donating a Film Camera, and let me know what you have. In your note, be sure to include your shipping address.
Affiliate Links - The links to some products in this podcast contain an affiliate code that credits The Digital Story for any purchases made from B&H Photo and Amazon via that click-through. Depending on the purchase, we may receive some financial compensation.
Red River Paper - And finally, be sure to visit our friends at Red River Paper for all of your inkjet supply needs.
See you next week!
Product Links and Comments
There are product links in this article that contain affiliate tags. In some cases, depending on the product, The Digital Story may receive compensation if you purchase a product via one of those links. There is no additional cost to you.
You can share your thoughts at the TDS Facebook page, where I'll post this story for discussion.