This is The Digital Story Podcast #769, Dec. 15, 2020. Today's theme is "What to Do About All of Those Digital Photos?" I'm Derrick Story.
Opening Monologue
Our digital photos pile up faster than leaves in Autumn. And today's show is dedicated to getting them bagged up and organized. We're going to rake up this job from two angles, using common sense organizing techniques and a dash of artificial intelligence. So glad you're here!
What to Do About All of Those Digital Photos?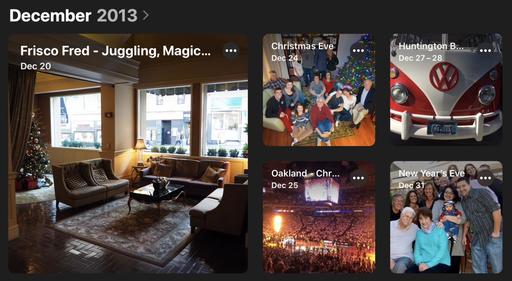 We're going to start out today talking with Isabelle Dervaux, a professional photo organizer.
Isabelle shares some great ideas and advice to help you get your arms around all those images on your hard drive. She's also available to you for a free 20 minute phone consultation.
One of her favorite quotes:
"Twelve significant photographs in any one year is a good crop." - Ansel Adams.
And finally, you may want to follow her on Instagram.
CullAi Is a Free/Affordable AI Organizing Tool for Mac Photographers
I ran across this article, CullAi is a Free Artificial Intelligence Culling Tool for the Mac, and was quite interested in this software.
So I downloaded the app and began testing it. You can use it for free with 50 photos or less per run. But I wanted to see how it performed on a professional shoot, so I ponied up the $10 for unlimited processing and put it to work.
The bottom line is, this app is super helpful for large collections of images of people. That's its focus. And it works surprisingly well. I discuss my experience on the second segment of today's show.
You can download CullAi from the Mac App Store.
The New Donation Kit for Carefree Shipping of Found Film Cameras
We have more time around the house than ever. And you finally dove into that bedroom closet that's been begging for some organization.
If you found a film camera that you're no longer using, our new Donation Kit makes it easy to pack and ship. Just visit the Contact Form on thenimblephotographer.com, click the box next to Donating a Film Camera, and let me know what you have. In your note, be sure to include your shipping address.
If it's a camera we can use for the shop, I'll send you a Donation Kit that includes a USPS Priority Mail shipping box and prepaid label. All you have to do is tape it up, insert the camera, and add the label. USPS will pick up your shipment from the front door of your house during their regular mail delivery. It's that simple!
Your donation help get analog gear in the hands of aspiring fine art photographers, and the proceeds help support this podcast.
Updates and Such
Inner Circle Members: A big thanks to those who support our podcast and our efforts!
Affiliate Links - The links to some products in this podcast contain an affiliate code that credits The Digital Story for any purchases made from B&H Photo and Amazon via that click-through. Depending on the purchase, we may receive some financial compensation.
And finally, be sure to visit our friends at Red River Paper for all of your inkjet supply needs.
See you next week!
Product Links and Comments
There are product links in this article that contain affiliate tags. In some cases, depending on the product, The Digital Story may receive compensation if you purchase a product via one of those links. There is no additional cost to you.
You can share your thoughts at the TDS Facebook page, where I'll post this story for discussion.