This is The Digital Story Podcast #787, April 20, 2021. Today's theme is "5 Useful Accessories for DIY Photo Projects" I'm Derrick Story.
Opening Monologue
When inspiration strikes for a "do it yourself" solution to a gear-related idea that comes to mind, I've found that certain items in my photo accessory drawer are helpful time after time. This week, I'll share five of my favorite DIY accessories, and a case study of putting some of them to use. I hope you enjoy the show.
Tune-In Via Your Favorite Podcast App!

---

Apple Podcasts -- Spotify Podcasts -- Stitcher

Podbean Podcasts -- Podbay FM -- Tune In
5 Useful Accessories for DIY Photo Projects
In a recent Medium.com article, I wrote about the handiness of my photo accessory drawer. Some folks might call it a junk drawer, but nothing could be further from the truth.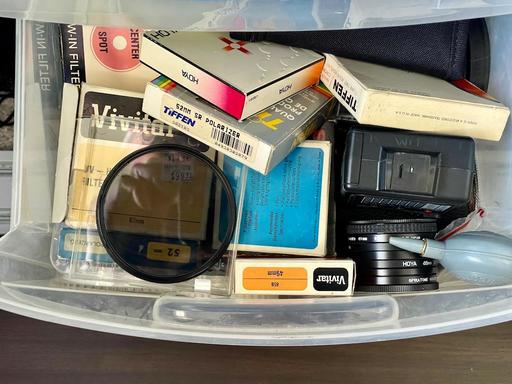 I have a number of items in there that have become essential components when I trying to come up with a DIY solution. Here are some of my favorites that I've reached for many times.
Step-Up and Step-Down Rings - This is one of the items I reach for regularly. Not only do they help me adapt off-sized filters to lenses, they can connect just about anything that has threads.

Lens Mount Adapters Over the years I've collected a set of affordable adapters that will mount practically any vintage lens to my MFT cameras, including Nikon, Canon, Pentax, Contax, and Minolta.

Cold Shoe Adapters There are tons of accessories that can be mounted in a cold shoe, from bubble levels, to microphone, to LED lights, and of course, flashes themselves. And the list goes on from there.

Old Filters - Way back when, I did a show discussing how I never throw a filter away, because some day it will have use. That includes practically every type in every diameter.

Translucent Plastic Film Canisters - I've used these for everything from LED light diffusers to small parts containers. They're also handy for carrying around a set of coins that can serve as both super compact slotted screw drivers and emergency change, with room left over for tripod thread adapters and bolts.
I have other things as well, such as a variety of brackets, gaffers tape, and oddball lenses. What are your favorite items in the photo accessory drawer? Stop by our Facebook page and share them.
How to Adapt a 20-Year-Old Lens to an X100 (and save $300)
As much as I love the 35mm lens on my Fujifilm X100V, sometimes I need a bit more elbow room. I looked at the WCL-X100 II Wide Conversion Lens, wanted it, but was reluctant to spend the $350 it costs. So I came up with another angle.
I found a Canon Wide Converter WC-DC58 0.8X lens in my photo accessory drawer, and decided to try it on the X100V. I mean, why not! I already had the filter adapter for the X100V that used 49mm threads. The WC-DC58 had 58mm threads on its backside. I kept digging, found a couple step-up rings that I could cobble together, and made the connection.
Peering through the electronic viewfinder, the world looked pretty good... and wider too. This had potential. I went to the menu on the Fujifilm and found the Conversion Lens option and set it to wide.
This does two things. First, it correctly adjust the metadata to read at the wider focal length, and it removes the frame lines in the optical viewfinder presenting you with a more accurate view of the world. Very cool.
After a bit of testing and reviewing the images at 100 percent on the laptop, I can confidently say that the lovely Canon Wide Converter works beautifully on the X100V. Sharpness was good at f/2.8 and great beyond f/5.6. Colors were deliciously Fuji, and it looks cool on the camera as well.
Photos for macOS Big Sur and iPhone Essential Training
This course was just released on LinkedIn Learning and lynda.com. It shows you how to leverage both the latest iPhone technology with Photos software, on both your Mac and mobile devices.
"With the free Photos for macOS software from Apple, you can manage, enhance, and share photos in a variety of ways. In this course, photographer, author, and educator Derrick Story takes you on a detailed exploration of Photos for macOS. Derrick starts with a quick-start introduction to taking pictures on your phone, then editing them with Photos and sharing them. He walks you through how to use the options available to you when you're recording video. Derrick also covers several advanced iPhone camera techniques, such as switching among cameras, controlling the flash, working with ProRAW, and more. He covers each step of the process to edit pictures in Photos for macOS, then does the same for editing videos. Derrick offers some useful tips to enhance your experience using Photos, then concludes with resources to help you learn more."
You can check out both the free movies and the entire course here.
Did You Know You Can Archive Your Digital Photos on Analog Film?
You can read the entire article on FStoppers.
Bit rot, or the slow deterioration in the performance and integrity of data stored on various forms of digital storage media, is a real concern for photographers. Over time, digital photos degrade and some even become totally defective. The best insurance against this problem may actually be analog film.
Digital photography offers a lot of advantages over the analog process. Namely, it's a lot cheaper and it allows a greater degree of freedom when shooting. Images are also more easily manipulated and with greater sophistication. But digital photography also has its disadvantages, too. One big one is bit rot. I have been shooting digital for about 15 years and, already, I have degraded or defective images. Now, this is certainly by no means a huge percentage of my files but imagine if one of those images was one of my "greatest shots." In some cases, the degradation is only slight, but it is still perceptible. I have some files that are totally gone, that is they won't open at all.
Bit rot is not the only thing I have struggled with in the digital realm, though. I have also just plain lost images. This has happened when I have switched recording formats, computers, etc. Some photos I only had stored in clouds and then lost when I closed accounts (Facebook, for example). The point is many digital photographs I have made in my lifetime are simply gone in one way or another, from one thing or another. Others are degraded or defective. Yet, I have every single image I have ever shot on 35mm film. My negatives have followed me halfway around the world on every move and are still as good as the day they were developed. Now, to be clear, I am not saying that negatives cannot be damaged or lost, they can. I'm simply saying, in my experience, I have all of my analog images and I do not have all of my digital ones. So it goes. Your experience may be different.
Virtual Camera Club News
Inner Circle Members: A big thanks to those who support our podcast and our efforts! (And welcome to our new members.)
My Writing on Medium.com: I now have more than 25 published articles on Medium.com. And if you haven't visited the site, and enjoy good writing on a variety of topics, I suggest that you may want to take a look. You can just go to the home page and enter "Derrick Story" in the search field. And if you like what you read, then follow me!
EV Explorers for Those Who Are Interested in Electric Cars: I've created a new group on DerrickStoryOnline titled EV Explorers. The tagline for this group is: "Bringing Curiosity and Nimbleosity to the World of Electric Vehicle Transportation." Here we can share information, tips, discoveries and more about using electric vehicles for our photography adventures. If you want to join this group, click on this link for an invite. We're going to keep this as a private group for now, but you are invited to join us.
Affiliate Links - The links to some products in this podcast contain an affiliate code that credits The Digital Story for any purchases made from B&H Photo and Amazon via that click-through. Depending on the purchase, we may receive some financial compensation.
And finally, be sure to visit our friends at Red River Paper for all of your inkjet supply needs.
See you next week!
Product Links and Comments
There are product links in this article that contain affiliate tags. In some cases, depending on the product, The Digital Story may receive compensation if you purchase a product via one of those links. There is no additional cost to you.
You can share your thoughts at the TDS Facebook page, where I'll post this story for discussion.