This is The Digital Story Podcast #637, May 29, 2018. Today's theme is "The Future of Lightroom" I'm Derrick Story.
Opening Monologue
After the fall of Aperture, Lightroom stood tall as the best all around digital asset manager for serious enthusiasts and many pros as well. But a number things have changed since then - some initiated by Adobe, and others by external forces. And suddenly, Lightroom's future is a bit more cloudy than it was a couple years ago. And that's the top story in today's TDS Podcast.
"The Future of Lightroom"
It's probably a good idea or a really bad one to discuss the future of Lightroom as I board a plane for Orlando to attend Photoshop World. But here we are.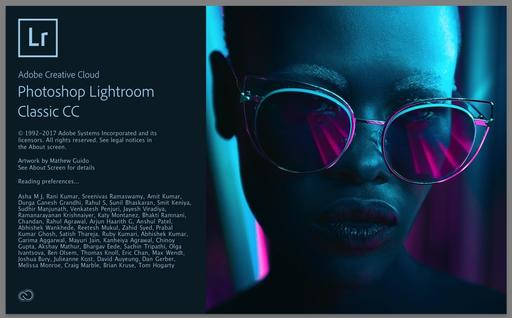 Here are the five factors that I think will influence Lightroom's future:
The End of the Perpetual License - In October 2017 Adobe announced the end of its perpetual license for new versions of Lightroom. If photographers want to stay current, they will need Creative Cloud subscriptions.

Locked In Workflow - A few years back, Adobe redesigned Lightroom's import dialog. What followed was a good example of how software design becomes locked-in and unable to change to meet an evolving ecosystem.

New Competitors - Later this year, Skylum will release their digital asset manager for Luminar. This highly anticipated update, if good, will continue to erode Lightroom's existing user base.

Smartphone Popularity - Even though Adobe has done a good job with its mobility apps, the trend among consumer photographers is to let their smartphones handle all of their photography needs. For this group, a Creative Cloud subscription might not be that appealing.

Software Fatigue - Sometimes you just need a change.

What Adobe has going for it... First, it's not easy to switch from one digital asset manager to another. Many photographers will remain with Lightroom as the path of least resistance. Plus, Adobe has done a good job with its mobility apps. So those in the Adobe ecosystem can integrate their smartphone photography with their more serious work. And finally, Lightroom is a good app. It's had its ups and downs, but at the end of the day it is a solid processor, editor, and manager.

The Portfolio Project - Week 4 - Your Portfoliobox Sites

I've received enthusiastic mail about how setting up a Portfoliobox site has rekindled the creative juices. So I thought what we could do is share this work with each other.

If you've signed up for a Portfoliobox Pro account, and have published at least one page, then send me the link to that site. Use the Contact Form on the Nimble Photographer and provide your name, the link, and the subject of the page or site you've published.

I will build a directory of user sites and publish it on TheDigitalStory. And all through the month of June, I will feature one of those sites on this podcast.

I love using Portfoliobox for these reasons:

My images look great, both on my computer and on my mobile devices.
It's easy to use. Without any instruction, I'm adding a high quality page in just minutes.
It's affordable. There's a free plan and a Pro version. The Pro version is only $82.80 per year or $8.90 per month USD, and that's before the 20 percent TDS discount.

Highlights with the Pro Plan

In addition to unlimited pages, you get a personalized domain name, web hosting, and up to 1,000 images.

Get Started Today

Just go to the TDS Landing Page to get started with your free account, or to receive the 20 percent discount on the Pro version. And if you want to see the page that I've begun, visit www.derrickstoryphotography.com.

The Creative Luxli Cello 10" RGBAW LED Light

I recently reviewed the Luxli Cello 10" RGBAW LED Light, and I want to talk about why I think this is an incredible LED panel for photographers.

Great Online Training Titles for Efficient Learning

I have some terrific photography titles on both LinkedIn Learning and lynda.com. You may want to visit my lynda.com Author Page or my LinkedIn Learning Author Page. Here's a look at some of the titles waiting for you.

Capture One Pro 11 Essential Training
Luminar Essential Training
Photos for macOS High Sierra Essential Training
Dropbox for Photographers
Sharing Photos with Flickr
A Photographer in Cuba
High School Seniors Portrait Photography

Signed Print Giveaway - If you watch one chapter for any of my training videos on lynda.com or LinkedIn Training during the month of May, send me a notification after the viewing via the Contact Form on The Nimble Photographer. (You can sign up for a free trial on lynda.com.) Just say, "I watched a chapter on lynda.com or LinkedIn Learning!"

You name will be entered into a drawing for a signed print from the Maui Project. The lucky recipient will be announced on the June 5, 2018 podcast. (Promotion ends on May 31, 2018. Void where prohibited.)

Reservation Forms have been sent for the Burney Falls and Lassen Volcanic National Park Workshop

We have our cabin reservations secured for Sept. 27-29, 2018 for the Burney Falls and Lassen Volcanic National Park Workshop. I sent out reservation forms this last weekend. So if you are on the reserve list, you should have received an invite.

Updates and Such

You can become a member of our Inner Circle by clicking on this link or by clicking on the Patreon tile that's on every page of The Digital Story.

B&H and Amazon tiles on www.thedigitalstory. If you click on them first, you're helping to support this podcast. And speaking of supporting this show, and big thanks to our Patreon Inner Circle members:

And finally, be sure to visit our friends at Red River Paper for all of your inkjet supply needs.

See you next week!

More Ways to Participate

Want to share photos and talk with other members in our virtual camera club? Check out our Flickr Public Group. And from those images, I choose the TDS Member Photo of the Day.

Podcast Sponsors

Red River Paper - Keep up with the world of inkjet printing, and win free paper, by liking Red River Paper on Facebook.

Portfoliobox - Create the site that your best images deserve by visiting Portfoliobox. And get a 20 percent discount by using our landing page!

The Nimbleosity Report

Do you want to keep up with the best content from The Digital Story and The Nimble Photographer? Sign up for The Nimbleosity Report, and receive highlights twice-a-month in a single page newsletter. Be a part of our community!

Want to Comment on this Post?

You can share your thoughts at the TDS Facebook page, where I'll post this story for discussion.