This is The Digital Story Podcast #767, Dec. 1, 2020. Today's theme is "5 Great Printing Projects for Creative Photographers." I'm Derrick Story.
Opening Monologue
What a lot of photographers don't realize is that they've already done half the work toward completing a satisfying print project. What I'm going to suggest to you today are 5 options to finish them off. And believe me, you will be tempted by at least one of these (and probably more). I hope you enjoy the show.
5 Great Printing Projects for Creative Photographers
Today, you'll really want to visit the show notes because I have a link to a free eBook titled, Creative Printing. This 32-page guide includes the item numbers and specific paper stocks for the projects I discuss, plus include links to other helpful items. You can view it on a Mac, iPhone, or iPad running the free Books app.
As for the projects themselves, there are some good ones. Let's get started.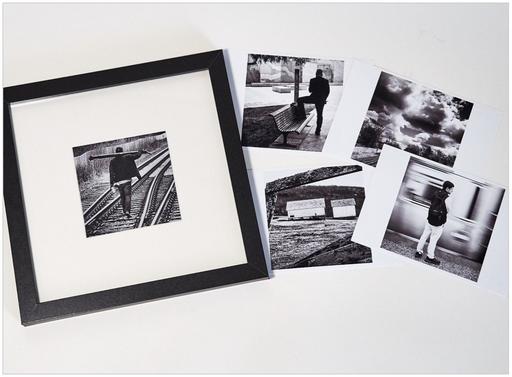 Framed Instagram Prints- Many photographers choose Instagram as a primary platform for sharing their images. And rightly so. Its toolbox of filters and adjustments are the perfect creative complement for smartphone snap-shooters. But what some photographers don't realize is that their images can have far more creative impact than what's displayed on their mobile devices. I didn't realize this myself until I started making prints from my Instagram captures. And my guess is that you will feel the same way.
Share the IG picture to your computer (I use AirDrop), print 4x6, get an 8"x8" square frame with a 3.5"x3.5" opening, and mount.

Postcards from the Edge, People love to receive postcards. And with just your iPhone and a printer, you can easily create your own unique mailable art that will blow the doors off mass market souvenir shop rivals. There are two standard postcard sizes: 4"x6" and 5"x7". Fortunately, those are also common dimensions for printing paper. But this is the part you might not know - you can affordably purchase heavy card stock that allows for image printing on one side and graphics on the other. Load these blanks into your printer and marvel at what shoots out minutes later.
In the eBook I have all of the paper stocks that I recommend. And here are the back templates for a 5"x7" size and for the 4"x6" size. My favorite stock is RRP 88lb. Polar Matte Card Stock 5x7 60 Sheets - Item Number: 1732.

Passport Photos at Home - "You can save yourself both time and money by creating your own passport photos at home. And they are legit!
For this project, I used my iPhone, Canon wireless printer, and a few sheets of Red River Paper 4"x6" glossy stock. And with these simple tools, I have a set of passport photos in 20 minutes. (It takes longer than that to drive to the local drugstore.)
Step one is to download the Biometric Passport Photo app for the iPhone. The download is free, but you'll have to pony up $1.99 to unlock the different print output sizes, including the 4"x6" dimensions that we're going to use.

Square Greeting Cards - "What's more impressive than showing off the latest Instagram shot on your iPhone? How about creating a square fine art greeting card directly from your mobile device? By using this Pages template that I've designed, you can do just that.
Square greeting cards are always attention getters. We're so accustomed to the standard rectangular card format, that when someone hands us a square envelope, we think, "Hmmm, this is cool. I wonder what's inside?"
In this case, it can be one of your Instagram shots brought to artistic life on fine art paper. And the best part is, you can create this card on your iPhone and send it directly to the printer. Once again, no computer required.
I recommend Red River's 60lb. Polar Matte Greeting Card stock, 5.25" x 10.5" (Item #1892) and a box of 5.25"x5.25" square white envelopes (Item #7170). Polar Matte is one of my favorite printing surfaces. And you can download my Square Card Template.

Printing a Panorama Card - You don't have to shoot a panorama to make a panorama card. Just about any shot will work. And you'll be amazed at how different it looks in this printed format. Think of it as your own wide screen theater.
Panorama cards bring your big scenes to life. Instead of being boxed-in on your mobile device, they are set free in full 9" wide glory. And if all of that wasn't good enough, you can use everyday #10 envelopes to send them in.
Just like the other projects in this eBook, all the work can be done with your iPhone and a wireless printer. And just like most of these projects, we'll once again fool the printer into outputting something that isn't in its normal menu of choices.
For this work of art, we're going to use Red River's 8"x9" Greeting Card, 60lb Premium Matte Plus (#1083).
Final Thought (from the book)
Recently, I celebrated a birthday with friends and family. We had a BBQ, music, and refreshments. A few gifts found they way to the event as well.
The next day, I wanted to thank everyone who had brought presents. So I pulled out my iPhone, found a party picture that I liked, turned on my Canon printer, and created a small stack of 5.25"x5.25" fine art square cards.
I produced them all in about 10 minutes, using the template from Chapter 5. It actually took me longer to address them than it did to print.
I'm sharing this story because it's a real life example of why I love being a photographer who prints. I could have sent a thank you email to everyone - sometimes I do. But for this occasion, I wanted to go the extra mile. And personalized greeting cards seemed like the right move. I would have loved to be there when each person opened theirs.
One Degree of Separation and the Appeal of Mirrorless Cameras
Derrick reads his latest post soon to be published on Medium.com
The New Donation Kit for Carefree Shipping of Found Film Cameras
We have more time around the house than ever. And you finally dove into that bedroom closet that's been begging for some organization.
If you found a film camera that you're no longer using, our new Donation Kit makes it easy to pack and ship. Just visit the Contact Form on thenimblephotographer.com, click the box next to Donating a Film Camera, and let me know what you have. In your note, be sure to include your shipping address.
If it's a camera we can use for the shop, I'll send you a Donation Kit that includes a USPS Priority Mail shipping box and prepaid label. All you have to do is tape it up, insert the camera, and add the label. USPS will pick up your shipment from the front door of your house during their regular mail delivery. It's that simple!
Your donation help get analog gear in the hands of aspiring fine art photographers, and the proceeds help support this podcast.
Updates and Such
The Ultimate B&W Photography Workshop Second Session Sold Out
The first session sold out in two days. So I've added a second session of the The Ultimate B&W Photography Workshop begins with its first assignment and check-in on Dec. 22 and builds to our class presentation on Saturday Jan. 16, 2021. It is now sold out as well.
I've created a new space called DerrickStoryOnline to support our virtual and physical workshops. Those who signed up for the Eastern Sierra event will have permanent access to this growing community.
Inner Circle Members: A big thanks to those who support our podcast and our efforts!
Affiliate Links - The links to some products in this podcast contain an affiliate code that credits The Digital Story for any purchases made from B&H Photo and Amazon via that click-through. Depending on the purchase, we may receive some financial compensation.
And finally, be sure to visit our friends at Red River Paper for all of your inkjet supply needs.
See you next week!
Product Links and Comments
There are product links in this article that contain affiliate tags. In some cases, depending on the product, The Digital Story may receive compensation if you purchase a product via one of those links. There is no additional cost to you.
You can share your thoughts at the TDS Facebook page, where I'll post this story for discussion.