This is The Digital Story Podcast #803, Aug. 10, 2021. Today's theme is "I Left My Bag Behind." I'm Derrick Story.
Opening Monologue
It was about 8pm when I was standing in the Best Western parking lot somewhere off Interstate 5. I was staring into the cargo area of the car that contained two suitcases, a cooler, but no backpack. "Where the hell is it?" I said out loud. At the moment, I didn't know. This was the first night of a 4-day road trip. What happened next is the topic of today's TDS photography podcast. I hope you enjoy the show.
Digital Photography Podcast 803
Tune-In Via Your Favorite Podcast App!

---

Apple Podcasts -- Spotify Podcasts -- Stitcher

Podbean Podcasts -- Podbay FM -- Tune In
I Left My Bag Behind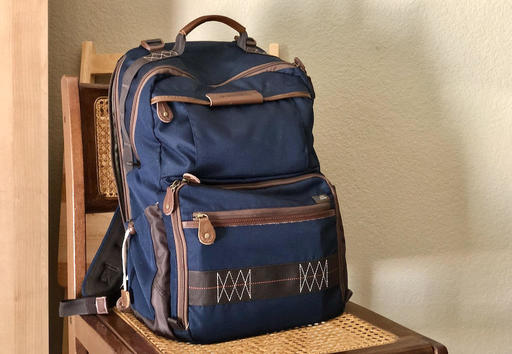 Here is the story of my leaving my backpack behind that contained my camera gear, laptop, iPad, AirPods, iPhone 12 Pro Max, and every other piece of tech gear I had packed except for the iPhone X that was in my pocket.
Inner Circle Perspective - How Do You View Instagram These Days?
13 percent love Instagram and visit it daily or more.
47 percent was once a big fan, but doesn't stop by as often these days.
8 percent have given up Instagram completely.
20 percent never used Instagram in the first place.
12 percent say it's complicated, see my comment.
Some of those comments included:
"I visit daily but I wouldn't use the word "love". Can't love anything full of ads." - Thomas.
"I use the Grids application, on my Mac, which allows me to see my feed without any prioritization by the IG algorithm. This allows me to see actual photography from the people that I choose." - Dave.
"I was never a fan but tried to post regularly. It seemed like a place to put images, but the "likes" never appealed to me. I've grown tired of it and have neglected it for most of the last year and a half. I like Derrick's online community much better." -Henry
"I used to use it all the time when it was photography-focused, but now that it's mostly about branding and marketing, I spend a lot less time there than I used to. That said, I still post photos so that my older followers can see my new work." - Lawrence.
"I enjoyed posting on Instagram regularly in about 2014 and 2015 ... but the rise of "influencers" and TikTok type videos has killed the fun and meaningful use for me. Just another platform that doesn't meet my needs or wants.I'm in the process of going back to more regular use of Flickr because I find it more meaningful and interesting." -Del."
A Few Takeaways
The Facebook influence seems to really have dampened the party for many.
In my case, I still use it because I can quickly post a picture there, and have it propagate to Facebook and Twitter. That was a bit of a lifesaver on the recent trip where I forgot my gear.
That being said, I'm actually starting to feel like an old fogie on IG because I only post still pictures, not videos. Who would have ever dreamed photography would be an issue there?
You can learn more about the Inner Circle here.
New Training Course! Mobile Photography: Image Management
What do you do with the plethora of photos on your smartphone after taking them? It's easy to have hundreds, if not thousands, of photos in your library, but it isn't so easy to back up and keep track of them. In this course, get tips on how to manage your ever-growing mobile photography collection.
I delve into several different backup and organizational methods for both Android and iOS devices, highlighting the benefits and risks of each approach. Plus, I share tips for enhancing the appearance of your shots right on your mobile device.
Discover how to leverage your iPad as a mobile photography studio, transfer images from your digital camera to your mobile device, back up and edit photos with Lightroom, and much more.
Mobile Photography: Image Management is a course that practically anyone who enjoys photography on their smartphone would enjoy. Take a look and see what you think.
Peak Design Field Pouch v2 Review - Nimble and Nice
In use, it's a perfect size for a grab-and-go kit that you can keep close to your body and not attract attention. I have two basic configurations that I use it for. The first is a photography kit.
Photography Kit Configuration
Or, what I call a "get my work done while riding the train" kit.
Get Work Done Kit
iPhone 12 Pro Max
Accessories such as lens cloth, hand sanitizer, mask, sunglasses, etc.
In both configurations, the iPhone 12 Pro Max fits beautifully in the padded zippered pocket keeping it separate and protected from the other items in the bag.
What's appealing about all of this for me is that I have a very efficient carrying solution to bring along exactly what I need, but doesn't attract attention and can even be positioned under my jacket if necessary.
The Peak Design Field Pouch V2 has a few other tricks up its sleeve. It's expandable design allows you to configure it to just the size you need. You can carry it on your belt or use the supplied shoulder strap.
Virtual Camera Club News
Inner Circle Members: A big thanks to those who support our podcast and our efforts! (And welcome to our new members.) We have a new poll on the Patreon site for our members: Are You Looking to Buy a New Camera in 2021? Be sure to stop by and chime in.
My Writing on Medium.com: I now have 40 published articles on Medium.com. And if you haven't visited the site, and enjoy good writing on a variety of topics, I suggest that you may want to take a look. You can just go to the home page and enter "Derrick Story" in the search field. And if you like what you read, then follow me!
The New Donation Kit for Carefree Shipping of Found Film Cameras - If you've discovered a film camera that's no longer being used, our new Donation Kit makes it easy to pack and ship. Just visit the Contact Form on thenimblephotographer.com, click the box next to Donating a Film Camera, and let me know what you have. In your note, be sure to include your shipping address.
Affiliate Links - The links to some products in this podcast contain an affiliate code that credits The Digital Story for any purchases made from B&H Photo and Amazon via that click-through. Depending on the purchase, we may receive some financial compensation.
Red River Paper - And finally, be sure to visit our friends at Red River Paper for all of your inkjet supply needs.
See you next week!
Product Links and Comments
There are product links in this article that contain affiliate tags. In some cases, depending on the product, The Digital Story may receive compensation if you purchase a product via one of those links. There is no additional cost to you.
You can share your thoughts at the TDS Facebook page, where I'll post this story for discussion.