This is The Digital Story Podcast #837, April 5, 2022. Today's theme is "5 Cool Gadgets for My Upcoming Road Trip." I'm Derrick Story.
Opening Monologue
I am so excited to be loading up the car for a photography road trip. So much has changed over the last couple years for me, and those differences are playing out in my preparations for Humboldt. You are probably planning a roadtrip or two yourself. So let's compare notes on this week's TDS Photography Podcast. I hope you enjoy the show.
Digital Photography Podcast 837
Tune-In Via Your Favorite Podcast App!

---

Apple Podcasts -- Spotify Podcasts -- Stitcher

Podbean Podcasts -- Podbay FM -- Tune In
5 Cool Gadgets for My Upcoming Road Trip
I think many photographers enjoy preparing for road trips as much as the adventure itself. A real feeling of satisfaction comes from being prepared to address practically any situation during the journey, and being able to do so efficiently and with great nimbleosity.
In that spirit, here are some changes I've made for the Humboldt workshop.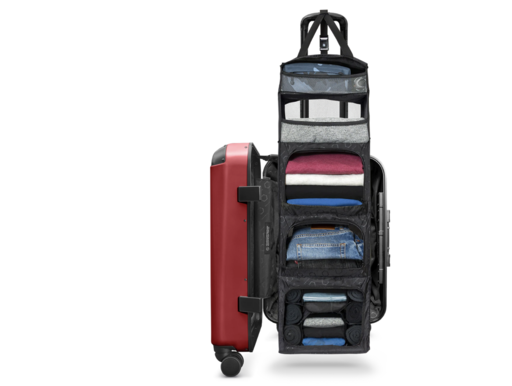 Small accessories can make a big difference on the road. I'll be using these as I head north to the Humboldt Redwoods Workshop.
Dan Rubin: Film Photography and Scanning Tips
You can read the entire article on AmateurPhotographer.co.uk
Dan Rubin is a well-known name in the film photography community; as well as being an accomplished film photographer and teacher who works with Ilford, Leica and other big names, he's well established as a top digital creative who was there right at the beginning with Instagram (he currently has nearly 700,000 followers).
AP first met this affable and eloquent Anglo-American photographer on a film photo walk he organised with Ilford at The Photography Show, so we're keen to share his practical and inspiring tips for film photographers - particularly in the sphere of scanning.
When it comes to shooting film, there are some key considerations to get your head around. With digital you are often slightly underexposing in order to protect the highlights; with film you often want to overexpose slightly to get a thicker negative, with a rich range of detail tone and contrast. I found this mental adjustment hard at first, especially when using film and digital cameras together. Your brain has to look at the same light and think about it in two different ways.'
Dan reckons the biggest mistake people make with film photography, whether they be beginners or 'born again,' is not working more closely with film development labs - particularly when ordering digital scans of negatives. 'Understanding the scanning process in terms of resolution and setting your preferences can really help,' he explains.
'Don't just rely on the lab's default scanning procedure - you need to talk with them to discuss how to get the best results, and most will be happy to have this conversation.'
One immediate practical tip is to stick to high-resolution scans, even though this can be more expensive. 'I was comparing lower-res 8-12MP scans with images from my high-resolution Sony Alpha camera, and of course they weren't as detailed. I was also letting the lab decide everything in terms of contrast and white balance on the scans.
The 2022 TDS Workshop Season
We have great events lined up for this year, and there are a few more coming. Here's a recap of what we have so far:
April 2022 - Humboldt Redwoods Workshop (physical)
May 2022 - Infrared Photography Workshop (online event)
August 2022 - Ultimate B&W Photography Workshop (online)
Sept. 2022 - Eastern Sierra Photo Workshop (physical)
Nov. 2022 - Oregon Coast Photography Workshop (physical)
You can learn more about all of these events and register by visiting TheNimblePhotographer.com.
Grand Teton Axes Controversial Plan to Require Portrait Photo Permits
You can read the entire article on PetaPixel.com
Grand Teton National Park has canceled its plans to require permits from photographers looking to shoot any kind of portrait for clients in the Wyoming park. The changes had been met with criticism from both photographers and First Amendment lawyers.
Park authorities had originally planned to implement new photography policies this summer in response to increased visits from photographers, particularly those shooting wedding photos. Jackson Hole News&Guide reports that wedding permits more than doubled from 150 in 2020 to 325 in 2021, and that complaints had grown as well -- wedding parties were reported for things such as bringing non-native plants into the park as well as asking other visitors to leave the area.
One of the proposed changes that sparked controversy was new permitting requirements for photographers seeing to provide "portrait services" to clients. Those photographers would be required to not only pay $300 for a permit for photo shoots but also send at least 3% of all their earnings in the park back to the park, wear an identifiable uniform during the shoot, and limit their shoots to within half a mile of roads or established trails.
Four prominent photography organizations -- the National Press Photographers Association (NPPA), Professional Photographers of America (PPA), North American Nature Photography Association (NANPA), and the American Society of Media Photographers (ASMP) -- responded to the proposed changes by voicing their concerns and sending a letter to Grand Teton National Park to protest the plans.
"This new policy directly violates federal law regarding when a photography permit may be required in national parks and is a violation of the First Amendment," the letter reads before it goes on to explain how the changes would violate established law and freedom of speech.
Virtual Camera Club News
Inner Circle Members: A big thanks to those who support our podcast and our efforts!
My Writing on Medium.com: I now have 51 published articles on Medium.com. And if you haven't visited the site, and enjoy good writing on a variety of topics, I suggest that you may want to take a look. You can just go to the home page and enter "Derrick Story" in the search field. And if you like what you read, then follow me!
The New Donation Kit for Carefree Shipping of Found Film Cameras - If you've discovered a film camera that's no longer being used, our new Donation Kit makes it easy to pack and ship. Just visit the Contact Form on thenimblephotographer.com, click the box next to Donating a Film Camera, and let me know what you have. In your note, be sure to include your shipping address.
Affiliate Links - The links to some products in this podcast contain an affiliate code that credits The Digital Story for any purchases made from B&H Photo and Amazon via that click-through. Depending on the purchase, we may receive some financial compensation.
Red River Paper - And finally, be sure to visit our friends at Red River Paper for all of your inkjet supply needs.
See you next week!
You can share your thoughts at the TDS Facebook page, where I'll post this story for discussion.