This is The Digital Story Podcast #873, Dec. 13, 2022. Today's theme is "I Am Worn Out by Subscriptions." I'm Derrick Story.
Opening Monologue
I think a little something inside of me snapped the other day when I read that Capture One was beginning the process of migrating us over to a subscription based model. For some reason, I'm not sure why, it was the final straw. And now I'm standing back and looking at everyone who insist on reaching into my pockets every month in exchange for a service. What I discovered is the lead story on today's TDS Photography Podcast. I hope you enjoy the show.
Digital Photography Podcast 873
Tune-In Via Your Favorite Podcast App!

---

Apple Podcasts -- Spotify Podcasts -- Stitcher

Podbean Podcasts -- Podbay FM -- Tune In
I Am Worn Out by Subscriptions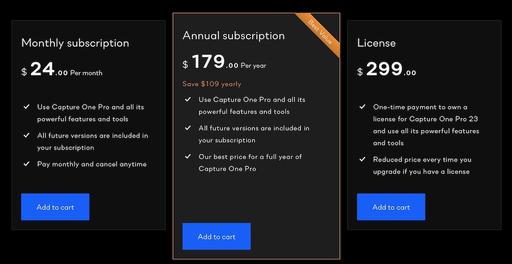 In our last Nimble Photographer Newsletter, I wrote about Capture One moving to a subscription-based service, and how I'm not sure how that's going to effect my future with them.
This topic was already tumbling around in my head. Earlier this month I created a Numbers spreadsheet with all of the subscriptions that I currently maintained.
It's a simple 3-column spreadsheet that has a checkbox in column one, subscription name in the second, and the monthly amount in the third column.
If a subscription is checked, its monthly amount is added to the total. Unchecked, it is not. This allows me to manage my bottom line by checking and unchecking subscriptions.
Currently, my subscription list has 18 items. Most of these are for work, such as the Adobe Photography Plan, Mighty Networks, Vimeo, and Squarespace. Others are personal such as Netflix, Apple TV+, and NY Times.
When I began the exercise, every box was checked for a total of $610 a month for both personal and business subscriptions. If I unchecked the personal items, my business total is $313 per month. That left me with $297 a month in fees for personal subscriptions. That was just too much.
On my first pass, I was able to remove $80 in subs that I just didn't need. I will take a crack at a second pass later this month.
So you can imagine my joy about the Capture One news.
So here's my view on why I like perpetual licenses vs. monthly subscription fees. With a perpetual license, I can decide whether to upgrade on a release by release basis.
Sticking with our Capture One example, If I don't plan to add any new cameras in a given year, and I don't absolutely have to have the latest set of features, I can opt out of the update and stand pat with what I have. And to be honest, I could probably do that every other year.
Capture One had been charging $199 for a perpetual license upgrade. If I updated every other year, that would work out to be far less than the subscription model that forces me to pay on a regular basis.
And I don't mean to be picking on Capture One, because this is happening everywhere. Even new cars want subscriptions for specific add on features.
I understand why businesses want subscriptions. They have our money no matter what. But that seems somewhat uncompetitive to me. They don't really have to earn our purchase anymore with dazzling new features.
In my business, I have resisted subscriptions. The TDS Photography Podcast is free. The Nimble Photographer Newsletter is also free. Online and physical workshops are a set price.
If you want to support the work I do beyond attending a workshop, you can pledge $54 a year through Patreon. I love the folks who do that. Because they recognize that it takes a lot of work to publish a weekly podcast and a weekly newsletter. And they choose to help me keep that going.
Services who constantly reach for customers' wallets for every little thing better be careful. Because at some point customers might just decide to go somewhere else. And that number is 0$ a month in subscriptions.
DxO Offers More Than 1,700 New Optics Modules and FOV Enhancements for PhotoLab 6.1
You can read the entire article on FStoppers.com.
Now, DxO is announcing the immediate availability of 1,700 new DxO Optics Modules, consisting of three new cameras and 18 optics, including the highly anticipated Canon RF 15-30mm f/4.5-6.3 IS STM lens. The total number of DxO Optics Modules now exceeds 78,000 camera and lens combinations. These updates apply to the newest edition of Photolab 6.1, which is also available now.
For example, there's the new Canon RF 15-30mm lens at 16mm: DxO says that generic raw conversion software will typically crop 10% or more of the image. For photographers who want to avoid losing precious detail from the edge of the frame, DxO's corrections maximize the lens' field of view while also delivering superior corrections to sharpness and distortion.
The company also claims another unique benefit of working with DxO Optics Modules is the fully automatic correction of lack of lens sharpness uniformity across the entire image. DxO uses an exclusive lens sharpness calibration that delivers tailor-made adjustments and corrections across each lens' field of view. Unlike competitors, sharpening is applied at different levels, specific to a lens' idiosyncrasies. For instance, sharpening might increase towards the edge of the frame to balance any radial softness. This achieves superior results when compared to applying general sharpening across the entire image -- an approach taken in lesser software.
DxO PhotoLab 6.1 (Windows and macOS) is now available for download on the DxO website at the following prices:

DxO PhotoLab 6.1 ESSENTIAL Edition: $139
DxO PhotoLab 6.1 ELITE Edition: $219

A free 30-day trial is available. Owners of DxO PhotoLab 6 can update for free from within the software.

Also, throughout December, DxO has a special holiday gift: photographers save 30% when they buy two or more DxO software titles.
$71 Coat Makes Wearers Invisible to AI Security Cameras
You can read the entire article on PetaPixel.com.
Students in China have invented a $71 "invisibility cloak" that hides wearers from artificial intelligence (AI) security cameras. Developed by a team of students at Wuhan University, the "InvisDefense" is a low-cost coat that can be worn day or night to evade detection from security AI camera systems.
To the naked eye, it looks like any other ordinary camouflage pattern coat. However, during the day the coat's customized camouflage prints which is designed through an algorithm effectively blind visible light cameras. At night, the coat's embedded thermal devices emit unusual heat signals to confuse infrared cameras.
"Security cameras using AI technology are everywhere. They pervade our lives," Wei tells Vice World News. "Our privacy is exposed under machine vision. We designed this product to counter malicious detection, to protect people's privacy and safety in certain circumstances."
The 2023 TDS Photography Workshop Lineup
Inkjet Printing Workshop for Photographers Online Workshop - Nov/Dec 2022 and Nov/Dec 2023. SOLD OUT

Maximizing Your Micro Four Thirds Camera Online Workshop - Feb. 2023. SOLD OUT

Ultimate B&W Photography Online Workshop - April 2023. SOLD OUT

Pt. Reyes In-Person Photography Workshop - May 2023

Infrared Photography Online Workshop - July 2023

Sedona Arizona In-Person Photography Workshop - Oct. 2023

Wine Country in Autumn In-Person Photography Workshop - Nov. 2023
You can sign up for any of these events by visiting our Photography Workshops Page. Inner Circle Members receive a 10 percent discount on all events.
Virtual Camera Club News
The Nimble Photographer Newsletter is now publishing every Thursday. Readers will enjoy a variety of content spanning from short photo essays, to commentary on weekly events, to reviews of the latest and coolest photo gear.
Inner Circle Members: A big thanks to those who support our podcast and our efforts! We are having a blast at our new Inner Circle hangout, the private group I've set up at DerrickStoryOnline. We'd love it if you join us. You can become an Inner Circle Member by signing up at our Patreon site. You will automatically be added to the new hangout.
My Writing on Medium.com: I now have 51 published articles on Medium.com. And if you haven't visited the site, and enjoy good writing on a variety of topics, I suggest that you may want to take a look. You can just go to the home page and enter "Derrick Story" in the search field. And if you like what you read, then follow me!
The New Donation Kit for Carefree Shipping of Found Film Cameras - If you've discovered a film camera that's no longer being used, our new Donation Kit makes it easy to pack and ship. Just visit the Contact Form on thenimblephotographer.com, click the box next to Donating a Film Camera, and let me know what you have. In your note, be sure to include your shipping address.
Affiliate Links - The links to some products in this podcast contain an affiliate code that credits The Digital Story for any purchases made from B&H Photo and Amazon via that click-through. Depending on the purchase, we may receive some financial compensation.
Red River Paper - And finally, be sure to visit our friends at Red River Paper for all of your inkjet supply needs.
See you next week!
You can share your thoughts at the TDS Facebook page, where I'll post this story for discussion.