This is The Digital Story Podcast #847, June 14, 2022. Today's theme is "Cropped Sensors Aren't Going Anywhere, Nor Should They" I'm Derrick Story.
Opening Monologue
"Mine is bigger than yours" seems to permeate every crevice of the male psyche. We compare the size of our trucks, houses, paychecks and practically anything else that can be measured, quantified, or weighed. We even do it with the girth of our lenses and size of our sensors. And yet, after multiple predictions of their demise, APS-C and MFTs are not only still here, but thriving. A closer look on today's TDS Photography Podcast. I hope you enjoy the show.
Digital Photography Podcast 847
Tune-In Via Your Favorite Podcast App!

---

Apple Podcasts -- Spotify Podcasts -- Stitcher

Podbean Podcasts -- Podbay FM -- Tune In
Cropped Sensors Aren't Going Anywhere, Nor Should They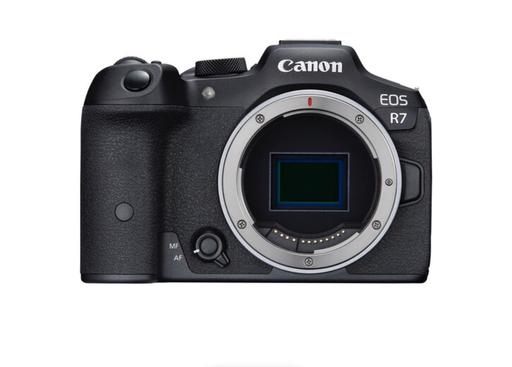 What do the Canon EOS R7, Fujifilm X-H2S, Canon EOS R10, Nikon Z fc, Sony a6400, OM System OM-1, and Panasonic GH6 all have in common? None of them have a full frame sensor.
The Canon R7, R10, and Fujifilm X-H2s are new releases that we're waiting for to land on store shelves, the a6400 is just now going back into production. Nikon Z fc is suddenly a golden child. And it isn't very easy to get your hands on the new OM-1, which seems to be always out of stock.
If the smaller cropped sensor camera is so inferior to their larger siblings, why is Canon, Sony, Nikon, Fujifilm, OM System, and Panasonic investing so much in them?
The short answer is (get it?) that people like 'em. And here are five reasons why.
They tend to be smaller and easier to carry around.
Thanks to today's technology, the image quality is fantastic.
You can get smaller, lighter lenses that still have amazing optical quality.
They generally cost less.
And yes, sometimes you want a little extra depth of field.
On pro photo assignments, I stand shoulder to shoulder with my full frame brothers and sisters. My shoulders are less tired. And I get hired just as often as they do. (And I'm spending far less on my gear.)
Believe me, cropped sensor cameras aren't going anywhere.
Tell a Friend
I was thinking the other day about how people love to tell me about their favorite podcasts, which I appreciate!
Then, I started thinking, we should be telling our friends about The Digital Story podcast. It's available on every service that's commonly used: Apple Podcasts, Google Play, Amazon, Spotify, and on and on.
If each or our regular listeners told just one friend about this podcast and encouraged them to listen, those should be substantial numbers.
So let's try it! Tell a friend about the TDS Photography Podcast.
TikTok is Convincing People to Scratch Their Camera Lenses with Rocks
You can read the entire article on Petapixel.com.
Some photographers on TikTok are trying an unconventional technique for unusual results: taking a rock to the front of their lenses, scratching the glass, and destroying them in the process.
Photographer Illumitati posted a video of her using a rock to mortally wound her Canon 50mm f/1.8 in response to a viral video made by Andres Videography where he appeared to do the same to his lens.
However, Andres didn't actually scratch his lens; eagle-eyed viewers will notice that he was actually scratching a lens filter placed on his Sony 85mm.
But in Illumitati's case, she actually takes a rock to the front element of her 50mm. Speaking to PetaPixel she explains what happened.
"I saw another person do it with a filter, and my intrusive thoughts told me to try it on the lens for real," she says.
"This came up on my 'for your page' and as a photographer, I'd never cringed harder in my life," Illumitati says in her TikTok video.
"But then I was so curious to see what a photo from that camera would look like I actually destroyed one of my lenses," she continues. "Then I set it down and got ready to take a couple of portraits and to my surprise, it actually gave it this glow. I don't recommend doing this to your lenses but hey, it's kind of cool."
When asked by PetaPixel, the portrait and fashion photographer seemed to have no regrets over the video.
"I really did scratch it, and the photos were actually not bad at all. The lens is really not great in the first place so I don't think I'd use it," she says.
Leica announces $20,000 M-A' Titan' set featuring titanium film camera and lens
You can read the entire article on DPReview.com.
Leica has announced a new limited-edition film camera and matching APO-Summicron-M 50 F2 ASPH lens. The Leica M-A 'Titan' set is Leica's sixth limited-edition camera with a titanium exterior. The first titanium exterior Leica was the Leica M6 TTL' Titanium,' released in 2001. The high-end, limited M-A 'Titan' camera and lens are milled from solid titanium, a material known for its durability. The titanium also gives the M-A 'Titan' set a distinct, striking look.
The Leica M-A is a purely mechanical camera, relying on no power or data connections. Leica writes that the M-A is 'the epitome of Leica's philosophy to concentrate on the essential: a return to photography in its purest form.' The Leica M-A doesn't even include a light meter, unlike the Leica MP. The special edition version includes the classic 'Ernst Leitz Wetzlar' script on the top plate.
The matching APO-Summicron-M 50mm F2 ASPH lens, whose external components are built using titanium for the 'Titan' set, is modeled after the first 50mm Summicron-M lens, introduced in 1956. To maintain the special aesthetic, the lens' included round lens hood is made of solid titanium.
The Leica M-A 'Titan' set doesn't come cheap. The set is limited to just 250 units worldwide and will set you back $19,995. The camera and lens are engraved with special-edition serial numbers, and the set comes in a special presentation box lined with black silk.
If the idea of a purely mechanical Leica film camera is up your alley, but the M-A' Titan' is too expensive, you can purchase the Leica M-A in black chrome or silver chrome for $5,965. The Leica M-A works with a wide of Leica M lenses, ranging from 16mm to 135mm.
Virtual Camera Club News
Have you been unsubscribed? A number of listeners have let me know that they were unceremoniously unsubscribed from the show. If that happens to you, just go back to the app and click on subscribe.
Inner Circle Members: A big thanks to those who support our podcast and our efforts! We are having a blast at our new Inner Circle hangout, the private group I've set up at DerrickStoryOnline. We'd love it if you join us. You can become an Inner Circle Member by signing up at our Patreon site. You will automatically be added to the new hangout.
My Writing on Medium.com: I now have 51 published articles on Medium.com. And if you haven't visited the site, and enjoy good writing on a variety of topics, I suggest that you may want to take a look. You can just go to the home page and enter "Derrick Story" in the search field. And if you like what you read, then follow me!
The New Donation Kit for Carefree Shipping of Found Film Cameras - If you've discovered a film camera that's no longer being used, our new Donation Kit makes it easy to pack and ship. Just visit the Contact Form on thenimblephotographer.com, click the box next to Donating a Film Camera, and let me know what you have. In your note, be sure to include your shipping address.
Affiliate Links - The links to some products in this podcast contain an affiliate code that credits The Digital Story for any purchases made from B&H Photo and Amazon via that click-through. Depending on the purchase, we may receive some financial compensation.
Red River Paper - And finally, be sure to visit our friends at Red River Paper for all of your inkjet supply needs.
See you next week!
You can share your thoughts at the TDS Facebook page, where I'll post this story for discussion.