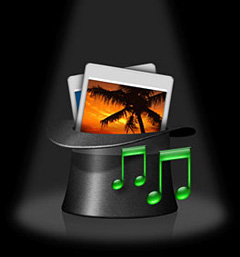 Powerful multimedia presentations of your pictures will enhance their impact on viewers. And few tools in the photographer's bag of tricks are more compelling than slideshows. This episode begins a month long journey into the craft of building great slideshows. As part of this endeavor, I'm announcing the FotoMagico Slideshow Showcase, which is an opportunity for you to master the art of slideshow presentation and share samples of your work with the world.
Here's how it all unfolds. In this podcast I'm discussing how to pick an appropriate subject and am offering some ideas for getting your tools together. Then, as we work through the month of May, I'll be providing tips for building your show, adding audio, making titles, and fine-tuning your presentation. The goal is that after a few weeks, you'll have your slideshow project in production and will be able to submit an entry form to the FotoMagico Slideshow Showcase. Then in June, we'll select 10 entries to feature on The Digital Story and send out a press release with the names, bios, web site links, and pointers to all of the showcased presentations. This is an excellent opportunity to shine a light on your photography.
You should read the Official Rules for entry (at the bottom of that page), but the basic parameters are this:
Anyone over 18 can enter.
Slideshow entries must be between 1-4 minutes in length.
The dimensions of the slideshow can be no more than 400 pixels in any direction. 320x240 is the recommended size.
Music and/or voiceover is permitted, but not required.
You must own, or have permission, to use all of the content in your slideshow
You need to complete an Official Entry Form by May 30 for each slideshow submitted, but you can submit as many shows as you wish.
If you wish to use FotoMagico to create your show, you can get a $10 discount off the software by entering "Digital Story" in the discount code box. Visit the order page and select FotoMagico. You'll be able to enter a coupon code at the first checkout page. The code is set to "Digital Story". Once the code is input, and the Checkout button is clicked, the $10 discount will be reflected on the final order total page.
You may also use other software to author your slideshow, such as iPhoto 6 (Mac), QuickTime 7 Pro (Mac/Windows), and Photo Story 3 (Windows XP), just to name a few. As the month goes on, I'll publish tips and tricks for adding polish to your creation.
The FotoMagico Slideshow Showcase also serves as our Photo Assignment for the month of May. You can send in your entry form before your slideshow is completed (to let us know that you're working on your presentation). In fact it's recommended. Entry forms are due by May 30. The actual slideshows are due on June 15. You can complete and submit your entry form here.
Listen to the Podcast
Now that I've piqued your curiosity, it's time to listen to today's audio show titled, "Sensational Slideshows." You can download the podcast here (32 minutes).
Technorati Tags: digital photography, podcast