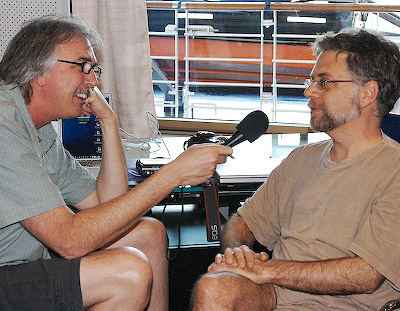 While on a recent Geek Cruise to Mexico, I had the opportunity to talk with other photographers about their approach to these excursions, including what equipment they used. I found these discussions fascinating, and I hope you will too.
I start off the show by telling a story about one of my adventures in Puerto Vallarta. I then interview Lynn Lampert who had just purchased a Canon Digital Rebel XT. She talked about upgrading to a DSLR and trying to master it on location. Then, Don Tillman steps up to the mic and discusses his Kodak point and shoot. Don had some excellent traveler tips. He's been on four cruises. Then I had a nice chat with Ben Long, who is a friend of mine and who spent the day with me in Puerto Vallarta. Ben is a photographer and writer who contributes to Macworld Magazine and has authored some great books. The photo on this page is me interviewing Ben on the ship (That's Ben on the right).
One of the tools we talked about in the show was an image editor called Graphic Converter by Lemkesoft. I wanted to make sure you got the correct link to this cool app. You can download and try it for free. If you like Graphic Converter, it costs $30.
Listen to the Podcast
Now that I've piqued your curiosity, it's time to listen to today's audio show titled, "Talking to the Shooters." You can download the podcast here (48 minutes).
Technorati Tags: digital photography, photography, podcast, tips