This is The Digital Story Podcast #714, Nov. 19, 2019. Today's theme is "Luminar 4 - One Redesign Too Many?" I'm Derrick Story.
Opening Monologue
This week launched with a bang as Luminar 4 hit the streets early Monday morning. And even thought it's too early to judge if it's going to be a runaway success or roadkill, the redesigned Edit module has many version 3 users steering for the exits. We'll take a closer look today and try to determine if this is just a mere fender-bender or will result in a total disaster. Hope you enjoy the show.
Luminar 4 - One Redesign Too Many?
The minute I opened my first picture to edit in Luminar 4, I knew that comments that would immediately surface after its public release.
To be perfectly honest, Skylum chose to fix something that wasn't broken (the Edit module) and ignore the thing that really needed work (the Library module). My prediction is that this will not be a popular release with Luminar 3 users, many of whom will be angry and disappointed all at the same time.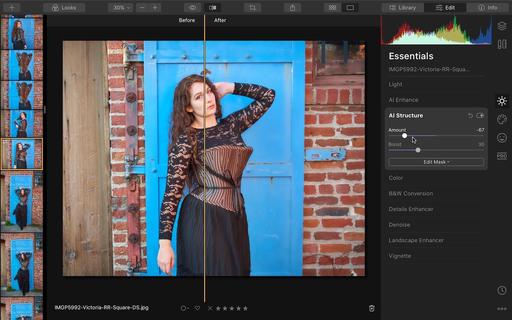 So, what potentially has gone wrong here. While ignoring the under-powered Library module all together, they chose to redesign the Edit module, and as part of that process eliminate the flexibility of Workspaces. What this means is that the adjustment filters must remain in their pre-assigned categories and can't be grouped to individual needs.
To potentially offset this misstep, Skylum did introduce new filters and improved a few existing ones. Here's an overview of those.
New AI Sky Replacement filter
New AI Skin Enhancer filter
New Portrait Enhancer
New Smart Contrast
New AI Structure Filter
Improved LUT Mapping/li>
Improved Golden Hour Filter
Improved Denoise Filter
Improved Adjustable Gradient Filter
That's a lot of new stuff, and I was impressed by the AI filters. They're smart, and for the most part, work as advertised.
But I think existing users are going to start to run out of patience with Skylum's seemingly whimsical approach to UI design. In addition to the new AI filters, what Luminar 4 needed was a big step forward with the Library. And that just didn't happen.
And since Luminar 3 is Catalina compatible on the Mac platform, there's really no compelling reason to upgrade unless you feel the need for the new AI filters.
It appears that Skylum needs to recalculate their direction with future updates of Luminar if they want to hold on to their existing audience.
Luminar 4 is available now for $89 for new users and as a $69 upgrade for those who already own a license.
New Details for Our Upcoming LA Street Photography Experience
This 3-day event on March 13-15 explores classic Los Angeles locations and architecture. Our excursions will take us as far west as Venice Beach, as well as famous movie spots and the back streets of this fascinating Southern California area.
Our HQ will be in a cozy Santa Monica neighborhood, not far from the iconic Santa Monica Pier and the Metro Rail station. From there we'll ride the rail into the heart of LA urban culture, making stops along the way to explore. We will also spend a day photographing Venice Beach with all of its So Cal charm and charisma. What a dream for urban explorers!
You will learn new techniques for safe and effective street photography, how to capture the vibe of great architecture, and enjoy some classic California cuisine along the way.
Olympus Educator, Mike Boening, is our co-instructor. Those of you who have worked with Mike at our SF Street Photography events know how much he brings to the table. Not only is he an official Olympus Educator, he's an accomplished street photographer, and he's going to bring gear for you to test and learn about.
If you want to join Mike and me this coming March, just visit the information and registration page, or go to www.thenimblephotographer.com and click on the Workshops link, or go to the Olympus site - no matter how you get there, Mike and I are looking forward to working with you this coming Spring.
Souping Up My Olympus E-M5 Mark II to Feel More Like an E-M1X
I wanted to do some extended shooting with my Olympus OM-D E-M5 Mark II, so I dug out the HLD-8 Power Battery Holder, which adds a second battery. After getting both parts attached, I experienced a noticeable Deja Vu moment. The rig felt a lot like the OM-D E-M1X that I had recently tested.
Since I hadn't used this older kit for a while, I had forgotten how wonderful the Power Battery Holder felt and operated. It provides shutter buttons with rotating collars in both horizontal and vertical positions, plus two additional function buttons for the vertical grip. There's even a second dial in the vertical position, so you have twin dials regardless of the orientation. The additional BLN-1 battery holder is much more accessible than the port on the bottom of the camera. And you gain a headphone jack as well. It's very comfortable and balanced in both positions. Why didn't come back to this long time ago?
Do You Have a Film Camera that Needs a Good Home?
Over the last year, I've received donations from TDS members who have film cameras that need a good home. What I do is inspect the items, repair and clean as I can, then list them in TheFilmCameraShop where I can find a good home for them. If you're interested in donating, please use the Contact Form on TheNimblePhotographer site. And thanks for you consideration!
Updates and Such
Inner Circle Members: A big thanks to those who support our podcast and our efforts!
B&H and Amazon tiles on www.thedigitalstory. If you click on them first, you're helping to support this podcast. (The Digital Story is supported by its audience. When you purchase through links on our site, we may earn an affiliate commission.) And speaking of supporting this show, and big thanks to our Patreon Inner Circle members:
Affiliate Links - The links to some products in this podcast contain an affiliate code that credits The Digital Story for any purchases made from B&H Photo and Amazon via that click-through. Depending on the purchase, we may receive some financial compensation.
And finally, be sure to visit our friends at Red River Paper for all of your inkjet supply needs.
See you next week!
More Ways to Participate
Want to share photos and talk with other members in our virtual camera club? Check out our Flickr Public Group. And from those images, I choose the TDS Member Photo of the Day.
Podcast Sponsors
Red River Paper - Keep up with the world of inkjet printing, and win free paper, by liking Red River Paper on Facebook.
Skillshare is an online learning community with thousands of classes for creators, entrepreneurs, and curious people everywhere. Get two months of learning for free by visiting www.skillshare.com/tds.
The Nimbleosity Report
Do you want to keep up with the best content from The Digital Story and The Nimble Photographer? Sign up for The Nimbleosity Report, and receive highlights twice-a-month in a single page newsletter. Be a part of our community!
Want to Comment on this Post?
You can share your thoughts at the TDS Facebook page, where I'll post this story for discussion.