This is The Digital Story Podcast #670, Jan. 15, 2019. Today's theme is "The DJI OSMO Pocket Review, Las Vegas, and More." I'm Derrick Story.
Opening Monologue
Las Vegas was lit during CES week. Thousands of technology professionals from all over the world converged on sin city to show their inventions and discover those by others. I was in the middle of it all, and with me was the DJI OSMO Pocket to record the sights and sounds of this consumer tech wonderland. So how did it perform? Is the OSMO Pocket a breakthrough device or just another geek toy? Stay tuned for my verdict.
The DJI OSMO Pocket Review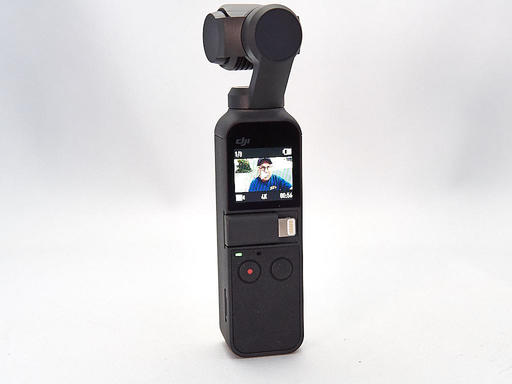 The DJI OSMO Pocket ($350) debuted before CES with much fanfare and discussion. The petite 3-axis gimble 4K movie camera fits nicely in a top shirt pocket, but packs an incredible amount of imaging power in its svelt frame. It is not perfect, but by any reasonable measure, it is a breakthrough device.
Its highlight features include:
Gimbal Camera with 1/2.3" CMOS Sensor
Compact 4.1 oz, 4.8" High Design
Up to 4K Video at 60 fps, up to 100 Mb/s
Connects to Smartphone via Mimo App
12MP JPEG or DNG Raw Still Photos
Includes Lightning & USB Type-C Adapters
Optional Wi-Fi & Bluetooth Monitoring
POV, ActiveTrack & FaceTrack Modes
Standard Time-Lapse & Motionlapse
NightShot & Panoramic Modes
The features that I was most interested in were video recording (1080p and 4K), SloMo capture, timelapse, panorama, and audio recording. Here's my opinion on all of those functions.
For sample videos, audio, and images, see my post titled, DJI OSMO Pocket Review - It's Probably for You on TheDigitalStory.
The Portfoliobox Tip of the Week
How do I make a Portfoliobox page private? In order to make a specific page private, you need to lock it with a password. Follow the steps below:
Click on Edit this page
Click on Settings
Check the box Password protect
Choose a password
Please note that to test this setting, you must log out from the admin panel. When you are logged in as admin, you have access to all the pages.
Photo Contest: B&W Portraits
To enter, send your best B&W portrait to thenimblephotographer@gmail.com by Jan. 22, 2019. Subject Line: B&W Portrait Contest. Make sure you have permission from the subject. Entrant must have captured the image and performed all of the post production on it. Recommended size of the image is 2000 px on the longest edge. The selected image will be featured on TheDigitalStory and the photographer will receive a 1-Year Pro Account with Portfoliobox.
To create your own Portfoliobox site, click on the tile that's on every page of TheDigitalStory or use this link to get started. If you upgrade to a Pro site, you'll save 20 percent off the $83 annual price.
5 Things to Keep in Mind When Visiting Las Vegas
The odds of having a great time in the desert wonderland increase if you follow these five tips:
Set your gambling budget before you leave, and stick to it. If you lose your money, it's gone. And throwing more money after it will not bring it back.

Alternate water and alcohol when out on the town. Have one cocktail, then one ice water. Repeat as often as necessary.

Do not accept anything handed to you on the street. Period.

Avoid rip-off cab companies. My experience is that it's best to stick with ride sharing and the monorail. But if you have to take a cab, such as from the airport to the hotel, ask what the expected price should be and if there are any add on charges beyond what the meter reads. Fares to most hotels on the strip should not be more than $23.

Shy away from over-priced restaurants. There are many fine eating establishments in Las Vegas. Do your homework first and avoid the outrageous steak houses and big name chefs.
Sonoma Coast Workshop Update
I've secured a beautiful home for us just south of Bodega Bay. This will serve as our headquarters during the event. There's plenty of room for our classroom and presentation work, plus beautiful areas for relaxing, and even sleeping accommodations for those who wish to stay there.
If you do want to join us July 17-19, and I hope you do, please visit the Workshops Signup Page and place your $100 deposit. That will secure your ability to attend when official registration begins later this month. You can also read more about the event on the TDS Workshops page.
Updates and Such
Inner Circle Members: Our current Photo Challenge is Repetitive Pattern. Check your Patreon page for the details and prize. And thanks for supporting this podcast!
B&H and Amazon tiles on www.thedigitalstory. If you click on them first, you're helping to support this podcast. And speaking of supporting this show, and big thanks to our Patreon Inner Circle members:
And finally, be sure to visit our friends at Red River Paper for all of your inkjet supply needs.
See you next week!
More Ways to Participate
Want to share photos and talk with other members in our virtual camera club? Check out our Flickr Public Group. And from those images, I choose the TDS Member Photo of the Day.
Podcast Sponsors
Red River Paper - Keep up with the world of inkjet printing, and win free paper, by liking Red River Paper on Facebook.
Portfoliobox - Your PortfolioBox site is the best way to show off your best images.
The Nimbleosity Report
Do you want to keep up with the best content from The Digital Story and The Nimble Photographer? Sign up for The Nimbleosity Report, and receive highlights twice-a-month in a single page newsletter. Be a part of our community!
Want to Comment on this Post?
You can share your thoughts at the TDS Facebook page, where I'll post this story for discussion.