This is The Digital Story Podcast #914, Sept. 26, 2023. Today's theme is "Don't Care How Great the iPhone Is, I'm Never Selling My Camera." I'm Derrick Story.
Opening Monologue
After spending the entire weekend setting up and testing the iPhone 15 Pro Max, I can report that it is a wonderful addition to my photography arsenal. There is an entire gear bag of goodies packed into that Titanium package. So will it replace my X100V, OM-1, or GFX 100S? Not on your life! Find out why on today's TDS Photography Podcast. I hope you enjoy the show.
Digital Photography Podcast 914
Tune-In Via Your Favorite Podcast App!

---

Apple Podcasts -- Spotify Podcasts -- Stitcher

Podbean Podcasts -- Podbay FM -- Tune In
I Don't Care How Great the iPhone Is, I'm Never Selling My Camera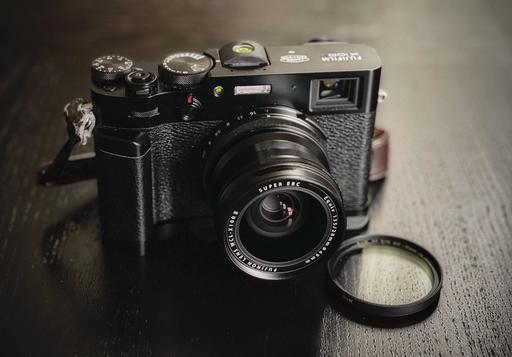 One of the things that I really like about the iPhone 15 Pro Max is how the Action Button allows me to hold the iPhone like a real camera and trip the shutter with a physical button instead of tapping the screen. This is a definite improvement.
And you'd think that with Apple hitting its stride with serious photography, that the convenience of the iPhone would finally move enthusiasts to sell their cameras and go light. But that's not going to happen. Let's start with 5 reasons why, and go from there.
The Electronic Viewfinder - My mirrorless cameras have one, my iPhone does not.

Physical Controls - The Action Button is a huge step forward for the iPhone, but it doesn't compare to the buttons and dials on my other cameras.

Built-In Tripod Socket - Yes, you can get MagSafe tripod adapters for the iPhone, I have one, but they are not the same as having a built-in socket all of the time.

SD Card Storage - I really like SD Cards. They are small, but not too small, convenient, provide physical storage in addition to Cloud, and are only feasible on my regular cameras.

Filters and Accessories - Yes, you. can buy filter adapters for the iPhone, but they pale in comparison to just screwing in a filter to the front of your camera. And how about spare batteries?
Then we get into things like how wonderful a camera feels in your hands, the physical benefits of a larger sensor, the amazing color science developed by Fujifilm, tilting LCD screens, and on and on.
And have you ever had your photo shoot interrupted by a phone call when using your favorite ILC camera? I think not!
I like how cameras make me feel when I'm working. There's a real partnership there. It's like the two of us together can make something beautiful.
The iPhone will never replace my working cameras. But what it has done is become my backup camera allowing me to travel even lighter than before.
I can now carry just the OM-1 or X100V in a tiny bag and be just fine because I have the iPhone 15 Pro Max in my pocket. Regardless of the top of the line smartphone that you're toting around, it is a worthy addition to your photography bag of tricks.
Addition, not substitution.
50 years of Billingham Bags: the story
You can read the entire article on AmateurPhotographer.com
The year 1973 was a good one for creating cultural icons. Pink Floyd's Dark Side of the Moon was released, and Roger Moore made his James Bond debut in Live and Let Die. Meanwhile in the West Midlands, newly married young couple Ros and Martin Billingham decided to set up a business making bags to supplement the meagre incomes from their day jobs, and along the way created the world's most iconic camera bag. Fifty years on the Billingham brand is still regarded as the Rolls Royce of camera bags, exported worldwide and used by a who's who of the biggest names in photography. So how did it all start?
[Closing paragraph] - Despite the fact that they're now in their 70s, and they have in their co-director son, Harry, a safe pair of hands, Ros and Martin appear to still be enjoying themselves far too much to think about retiring. 'Even after all these years it's still nice to walk in and see the manufacturing process,' beams Ros. 'That's why we're still here, still working.' Martin adds: People always seem to need bags, and there isn't a perfect bag. So we have to keep designing and making lots of different ones. There are really only two types of bag - too big or too small.'
Google Pixel 8: new leaked promo video details new & improved camera features
You can read the entire article on DigitalCameraWorld.com
It's flagship phone launch season, and hot on the heels of the new iPhone is the Google Pixel 8 and 8 Pro, due to launch on October 4th. Google has officially only released a basic teaser video for the upcoming phones on its Pixel 8 webpage, but a new, more detailed video showing what the new phones will have to offer has recently been leaked by tipster Kamila Wojciechowska. It reveals camera features like:
A new Pro Mode, exclusive to the Pixel 8 Pro. This will give users added control over more advanced camera settings, enabling greater photographic freedom.
Night sight is back, so expect uncannily detailed low light images, even in almost complete darkness.
Super res zoom, enabling 8x zoom with the Pixel 8, and 30x zoom for the '8 Pro.
Real tone, for improved color accuracy, for lifelike, realistic skin tones.
Magic editor: this looks like a clever feature, enabling you to switch faces in a photo with minimal effort.
Pro Camera Specs (uncomfirmed)
Main Camera: 50MP Samsung GN2, f/1.68 aperture
Ultrawide Camera: 64MP Sony IMX787, f/1.95 aperture
Telephoto Camera: 48MP Samsung GM5, f/2.8 aperture, 5x optical zoom, Super Res Zoom up to 30x
Front Camera: 11MP Samsung 3J1, dual phase detect AF, f/2.2 aperture, 95-degree field of view
Google may also be introducing new video capture features, including Video Boost, Night Sight for low light videos, Audio Eraser for reducing ambient background sounds, and improved skin tone rendition.
We'll have to wait until October 4th for the official Pixel 8 reveal, but if these leaked details do turn out to be correct, the flagship phone fight between Google and Apple is going to be fierce.
Setting Up the iPhone 15 Pro for Photographers
You can read the entire article on Live View
Apple has made a few key refinements to the iPhone 15 Pro and Pro Max that are very photographer-friendly. These changes not only improve the camera's output, but also provide a better experience when taking pictures. In this article, I will first review the key settings that maximize the iPhone's imaging capabilities, and then show you the most efficient way to hold the camera and take pictures.
Virtual Camera Club News
The Nimble Photographer Newsletter is now publishing every Thursday. Readers will enjoy a variety of content spanning from short photo essays, to commentary on weekly events, to reviews of the latest and coolest photo gear.
TDS Workshops! - You can sign up for available workshops by visiting The Nimble Photographer. Inner Circle Members receive a 10-percent discount on all events.
Inner Circle Members: A big thanks to those who support our podcast and our efforts! We are having a blast at our new Inner Circle hangout, the private group I've set up at DerrickStoryOnline. We'd love it if you join us. You can become an Inner Circle Member by signing up at our Patreon site. You will automatically be added to the new hangout.
Great Photography Articles on Live View - If you check out our publication and appreciate what you see, be sure to follow us and clap for those authors. You can find us at medium.com/live-view.
If you're interested in writing for Live View, drop me a line at dstory@gmail.com.
The New Donation Kit for Carefree Shipping of Found Film Cameras - If you've discovered a film camera that's no longer being used, our new Donation Kit makes it easy to pack and ship. Just visit the Contact Form on thenimblephotographer.com, click the box next to Donating a Film Camera, and let me know what you have. In your note, be sure to include your shipping address.
Affiliate Links - The links to some products in this podcast contain an affiliate code that credits The Digital Story for any purchases made from B&H Photo and Amazon via that click-through. Depending on the purchase, we may receive some financial compensation.
Red River Paper - And finally, be sure to visit our friends at Red River Paper for all of your inkjet supply needs.
See you next week!
You can share your thoughts at the TDS Facebook page, where I'll post this story for discussion.