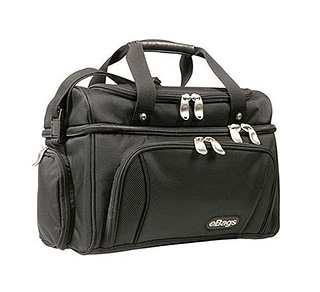 Here are ten things you don't want to forget when you hit the road on a photo vacation. Some of these items you'll have packed already, but there will be others that I hope you add to the mix. The list is:
Insulated lunch bag such as the eBags Crew Cooler.
Portable tripod. The Gorillapod is a favorite.
Extra storage cards. They are cheap and indispensable on the road.
Both compact and DSLR cameras.
Model releases.
Business cards.
3x5 cards with a couple pens.
Non-camera bag.
List of important URLs or a Smart Phone.
Extra charged batteries and their chargers.
In the podcast, I explain why each of these items are on the list.
Monthly Photo Assignment
Motion is this month's photo assignment. There are all sorts of possibilities for showing motion, from panning moving objects, to slowing down your shutter speed, to moving yourself. You can read more about how to submit on our Submissions page. Deadline for entry is June 30.
Listen to the Podcast
Now that I've piqued your curiosity, it's time to listen to today's audio show titled, "Top 10 Travel Tips for Photographers." You can download the podcast here (20 minutes). You can also subscribe to the podcast in iTunes
The Digital Story Podcasts are available for direct download from Apple iPhones. I've created a special mobile download page here. Just load the page in Safari, browse the podcast line-up, and click on the one you want to listen to.
Want to share photos and talk with other members in our virtual camera club? Check out our new Flickr Public Group. It's a blast!

Events! See the TDS Event Calendar for photography workshops, speaking engagements, and trade show appearances.
---
Technorati Tags: digital photography, podcast, technique, Technology, The Digital Story, tips
---
Sponsor Notes...
Lowepro Bags for Photographers On the Go -- Lowepro gear for every type of camera rig, every type of photographer.
Add Magic to Your Slideshows -- FotoMagico presentations are so amazing that your audience will be asking how you did it.