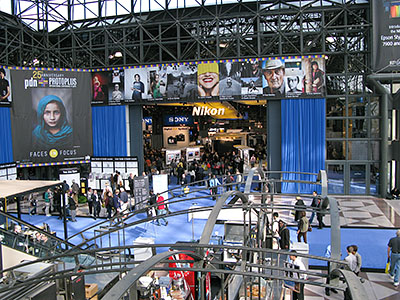 PhotoPlus Expo in NYC is one of the best photographer events on the calendar. I say "photographer" on purpose because it's really about the person with the camera in their hands who wants to improve their craft. The combination of top-tier seminars with a heady trade show floor make this a very satisfying event.
I spent the week at PhotoPlus and have pulled together a recap of my experiences there, from my time in the O'Reilly booth, to teaching classes, to wandering about the Expo hall, and talk about them in this podcast. I even had time to do a little street shooting.
Early morning preparations in Javits Center before the show opens. Photo by Derrick Story, captured with a Canon G9.
Monthly Photo Assignment
Missing is this month's photo assignment. This can be taken so many ways. A series of objects with one missing, someone missing someone else, a clear omission... lots to work with here. You can read more about how to submit on our Submissions page. Deadline for entry is Oct. 31.
Listen to the Podcast
Now that I've piqued your curiosity, it's time to listen to today's audio show titled, "PhotoPlus Expo Recap." You can download the podcast here (28 minutes). You can also subscribe to the podcast in iTunes
The Digital Story podcasts are available for direct download from Apple iPhones. I've created a special mobile download page here. Just load the page in Safari, browse the podcast line-up, and click on the one you want to listen to.
Want to share photos and talk with other members in our virtual camera club? Check out our new Flickr Public Group. It's a blast!
---
-
---
Technorati Tags: digital photography, podcast, technique, Technology, The Digital Story, tips
---
Sponsor Notes...
Add Magic to Your Slideshows -- FotoMagico presentations are so amazing that your audience will be asking how you did it.
Red River Paper -- Try the $7.99 Sample Kit.