This is The Digital Story Podcast #633, May 1, 2018. Today's theme is "Street Photography 2.0." I'm Derrick Story.
Opening Monologue
Many people think of street photography as this stealthy activity that can lead to confrontation if the subject suddenly detects their being the unsuspecting target. But there's another approach, and it's one where the photographer openly integrates with the environment instead of hiding within it. I call this technique Street Photography 2.0, and it's the subject of today's TDS podcast.
Street Photography 2.0
I think some folks are nervous about street photography because of the way it's often portrayed online. But I think it can actually be a very fulfilling activity.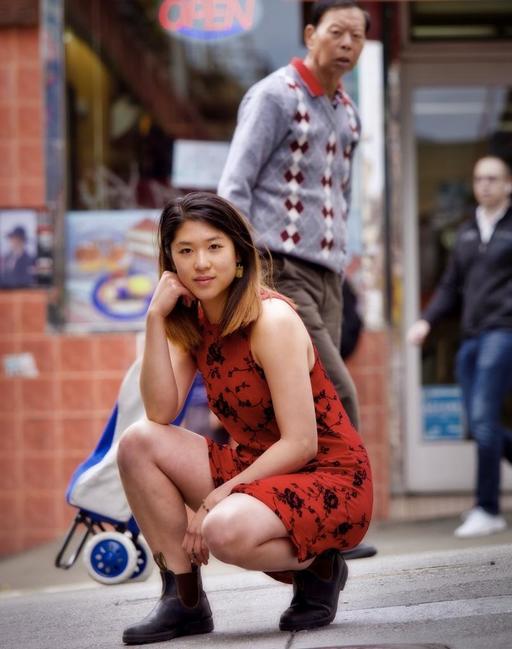 Stephanie Zhu attracting attention in Chinatown, San Francisco. Photo by Derrick Story.
Here's how:
It's Not Us vs Them - The idea of going to battle and engaging in confrontation might appeal to some personalities, but that's not the way I do it. Everyone has something to do when in public: going to work, shopping, visiting friends, searching for shelter, etc. Our activity on this given day is to take pictures. We are part of the ecosystem.

Know When to Hold Em; Know When to Fold Em - That being said, you have to have your finger on the pulse of the environment you're working in. There are times when you need to keep your gear tucked away and out of sight. And there are some people who you need to stay away from.

Be Complementary - When you approach a potential subject, make a note of what you find attractive about them. Is it their wardrobe, an accessory, an attitude? It could be a smile. When your introduce yourself, complement them as well and say that you would like a portrait. That complement will go a long ways toward winning them over.

Work Quickly - Have your camera configured for the shot before you approach the subject. Once they give you approval, complete the shoot within 20 seconds. Don't make them regret giving you permission.

Be a Man or a Woman of Your Word - If they ask for a copy of the picture, then give them your card, tell them to email you, and you will reply with the photo. Follow through is very important to us maintaining our reputation on the streets.
By being genuine, smart, and respectful, you can capture wonderful images on the street without drama and deceit. At the end of the day, you'll like your pictures and yourself as well.
More on DxO Labs chosing to file for Chapter 11 Bankruptcy Protection
"We are very confident that this procedure, which should not last for more than a few more weeks, will not affect our customers in any way. In fact, we are pleased to announce the following upcoming product releases:
In June, we will release a free update (version 1.2) of our flagship software, DxO PhotoLab. Recently awarded the TIPA 2018 Award for Best Image Processing Software, this latest version of DxO PhotoLab will include improved local correction features, and will add support for 7 cameras, including the Canon EOS 2000D and the Sony A7 III. This release will also be an opportunity for us to reiterate our commitment to the "perpetual license" model (as opposed to a subscription model) that allows our customers to update their products according to their needs, rather than in a constrained manner.
In June, we will release the new version of the Nik Software Collection, which DxO acquired from Google at the end of 2017. Much awaited by the Nik software community, this first "by DxO" version focuses on fixing bugs that up until now could disrupt the user experience, as well as on ensuring full compatibility with the latest Mac OS and PC platforms.
Great Online Training Titles for Efficient Learning
I have some terrific photography titles on both LinkedIn Learning and lynda.com. You may want to visit my lynda.com Author Page or my LinkedIn Learning Author Page. Here's a look at some of the titles waiting for you.
Capture One Pro 11 Essential Training
Luminar Essential Training
Photos for macOS High Sierra Essential Training
Dropbox for Photographers
Sharing Photos with Flickr
A Photographer in Cuba
High School Seniors Portrait Photography
Signed Print Giveaway - If you watch one chapter for any of my training videos on lynda.com or LinkedIn Training during the month of May, send me a notification after the viewing via the Contact Form on The Nimble Photographer. (You can sign up for a free trial on lynda.com.) Just say, "I watched a chapter on lynda.com or LinkedIn Learning!"
You name will be entered into a drawing for a signed print from the Maui Project. The lucky recipient will be announced on the June 5, 2018 podcast. (Promotion ends on May 31, 2018. Void where prohibited.)
Aerial Photography Workshop
Public registration is now open for the Sonoma Country Hot Air Balloon and Drone Photography Workshop, June 8-10, 2018. We're combining two very fun aerial activities into one workshop. Be sure to get on the Reserve List for this one!
Reservation Forms have been sent for the Burney Falls and Lassen Volcanic National Park Workshop
We have our cabin reservations secured for Sept. 27-29, 2018 for the Burney Falls and Lassen Volcanic National Park Workshop. I sent out reservation forms this last weekend. So if you are on the reserve list, you should have received an invite.
Updates and Such
You can become a member of our Inner Circle by clicking on this link or by clicking on the Patreon tile that's on every page of The Digital Story.
B&H and Amazon tiles on www.thedigitalstory. If you click on them first, you're helping to support this podcast. And speaking of supporting this show, and big thanks to our Patreon Inner Circle members:
And finally, be sure to visit our friends at Red River Paper for all of your inkjet supply needs.
See you next week!
More Ways to Participate
Want to share photos and talk with other members in our virtual camera club? Check out our Flickr Public Group. And from those images, I choose the TDS Member Photo of the Day.
Podcast Sponsors
Red River Paper - Keep up with the world of inkjet printing, and win free paper, by liking Red River Paper on Facebook.
The Nimbleosity Report
Do you want to keep up with the best content from The Digital Story and The Nimble Photographer? Sign up for The Nimbleosity Report, and receive highlights twice-a-month in a single page newsletter. Be a part of our community!
Want to Comment on this Post?
You can share your thoughts at the TDS Facebook page, where I'll post this story for discussion.